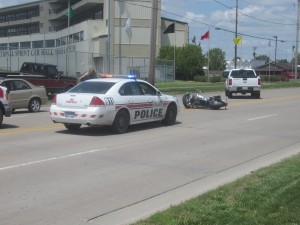 A collision between a gold Toyota car and a motorcycle shortly before 1PM today has resulted in the transport of the rider of the motorcycle by Mercy One Helicopter to Des Moines. The driver and the passenger of the car declined transport to the hospital. Officials on scene tell KNIA/KRLS that the injuries to the motorcyclist may be life-threatening. Knoxville Fire and Rescue, Knoxville PD, the Iowa State Patrol and Marion County Sheriff's Deputies responded to the scene.
Knoxville Police Officer Kenny Hucks tells KNIA/KRLS News that the motorcycle was north-bound in the right lane behind another vehicle. That vehicle was turning into Casey's, so the motorcycle attempted to pass it in the left lane. At the same time, the gold Toyota was pulling out of Casey's, turning left to go south. Hucks says it appears neither vehicle saw each other. The motorcycle collided with the Toyota just behind the front driver's side wheel, throwing the driver several yards. The driver of the motorcycle was not wearing a helmet.
The accident remains under investigation, with the Knoxville Police Department assisting the Iowa State Patrol. KNIA/KRLS News will provide more information as soon as it becomes official.