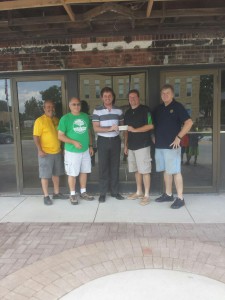 The Knoxville Lions Club has donated $1,000 to the Grand Theater Renovation Project.
Steve Jones with the Lions says members of the club believe that the Grand Theater Project is an exciting one that will benefit the entire community.
Dylan Morse with the Grand Theater Foundation adds "We're thrilled that civic organizations like the Lions are participating in our project. The fact that they were willing and able to donate to our cause while they have their own ambitious – and beautiful – project happening with the Avenue of Flags means a lot to us. We're very excited to showcase their generosity on our Donor Wall…years from now people will still see and feel the differences they have made in and around Knoxville."
The Project is over halfway to reaching its $500,000 goal.
The Grand Theater Foundation offers some suggestions on giving opportunities:
Creative Circle: Recognition on our Website Donor Page and in Select Printed Materials $250 – $500 (Plaques on individual seats start at the $250 level; Recognition in print materials is $500+)
Premier Society Circle: Creative Circle Benefits, and a name on the Donor Wall in our newly renovated Theater
$1,000 – Plus Two Complimentary Tickets
$2,000 – Plus Four Complimentary Tickets
$3,000 – Plus Six Complimentary Tickets
$4,000 – Plus Eight Complimentary Tickets
$5,000 – Plus Ten Complimentary Tickets
Producer Circle: All underlying benefits, plus:
$10,000 – Marquee Movie Presentation
$50,000 – Complimentary Corporate Night (Sunday, Monday, or Tuesday), Marquee Movie Presentation
$75,000 – Upper Auditorium Naming Rights
$100,000 – Lower Auditorium Naming Rights
Additional information can be found on our new website: www.GrandTheaterKnoxville.org