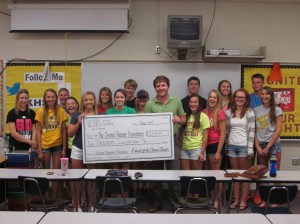 The Knoxville High School Student Senate recently donated nearly $2100 to The Grand Theater Foundation.

Student Senate President Taylor Weldon says the money was earned through a variety of fundraising activities during the second semester of the last school year.
"To raise money for the Grand Theater, we did a ping pong tournament, sold popcorn, ice cream, sold Valentine roses and cards, and also did Penny Wars."
Student Senate Vice President Michala Brand says they feel it's an important cause not only for their generation but for generations of moviegoers to come.
"Our generation in particular was crazy about the movie theater uptown when we were younger and even still today if it would be open. So we thought that it would be a really great organization to help out and get the younger generation to get involved in going to the movies locally."
Brand says the Student Senate feels great to be able to show so much support by raising so much money.The funds will be used to help refurbish the Grand Theater. For more information on how to donate, go to www.grandtheaterknoxville.org.