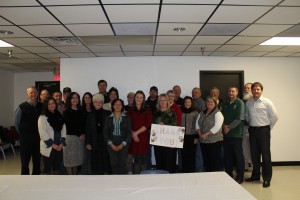 The Marion County Community Foundation hosted a Night of Sharing to learn from recipients of the Foundation's 2014 funding process.

Presenters, board members, and guests gathered at the National Sprint Car Hall of Fame and Museum Thursday. Local leaders expressed sincere appreciation for how the grant dollars help them fulfill their purpose. Funding has been invested in communities throughout the county to meet the needs of residents of all ages.
Infants and children benefit from grants to early learning centers that help improve security, provide basic necessities for newborns, or are used to purchase laptops for preschoolers. School children have an opportunity to borrow a musical instrument for the school year or learn how to put on a puppet show. And students of all ages benefited from back-to-school events that ensure students have the supplies necessary to focus on academic pursuits
Older students have been given opportunities to explore outer space, attend a live theater production of Shakespeare's The Tempest next spring, and better understand the importance of good character. Creative teachers compete for funding to enhance classroom learning through the Foundation's Educational Mini-Grant Program. Many projects focus on Science, Technology, Engineering, and Math, components of the STEM initiative.
Families have received holiday baskets, have access to better equipped food pantries, can attend classes or learn to paint. Parks, playgrounds, and sports venues have been created or enhanced; homes have been built or renovated, and a historic theater with state-of-the-art equipment is being restored. Counseling and special services help address critical needs of all ages. Firemen and first responders are better prepared to handle emergency situations thanks to assistance provided for equipment and training.
Seniors are remembered and benefit from improved housing options and medical facilities as well as home-delivered meals.
With grants exceeding $1.6 million over nine grant cycles, much has been accomplished, yet many needs and opportunities still exist. If your organization would like to submit a proposal for the 2015 grant process, the Foundation's Web site, www.mccfiowa.org, provides necessary details. Announcements regarding the 2015 grant cycle will be made in early 2015 with proposals due by April 20th.