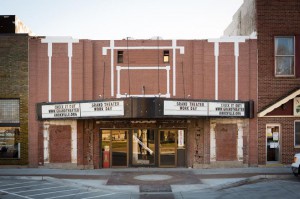 The Knoxville City Council agreed to a $90,000 matching grant to the Grand Theater Foundation to assist with their restoration project.

The funds were approved during a special session of the city council Monday evening.
Grand Theater Foundation President Dylan Morse says the money from the city and the additional $90,000 in matched funds yet to be raised should be enough to finish the theater project. Morse is confident community members will step up to raise the matching funds by the December 1, 2015 deadline.
All contributions will be matched up to the cap of $90,000. City Manager Harold Stewart tells KNIA/KRLS News that the City Council sees the Grand Theater renovation as an economic development project that will be good for the entire community.