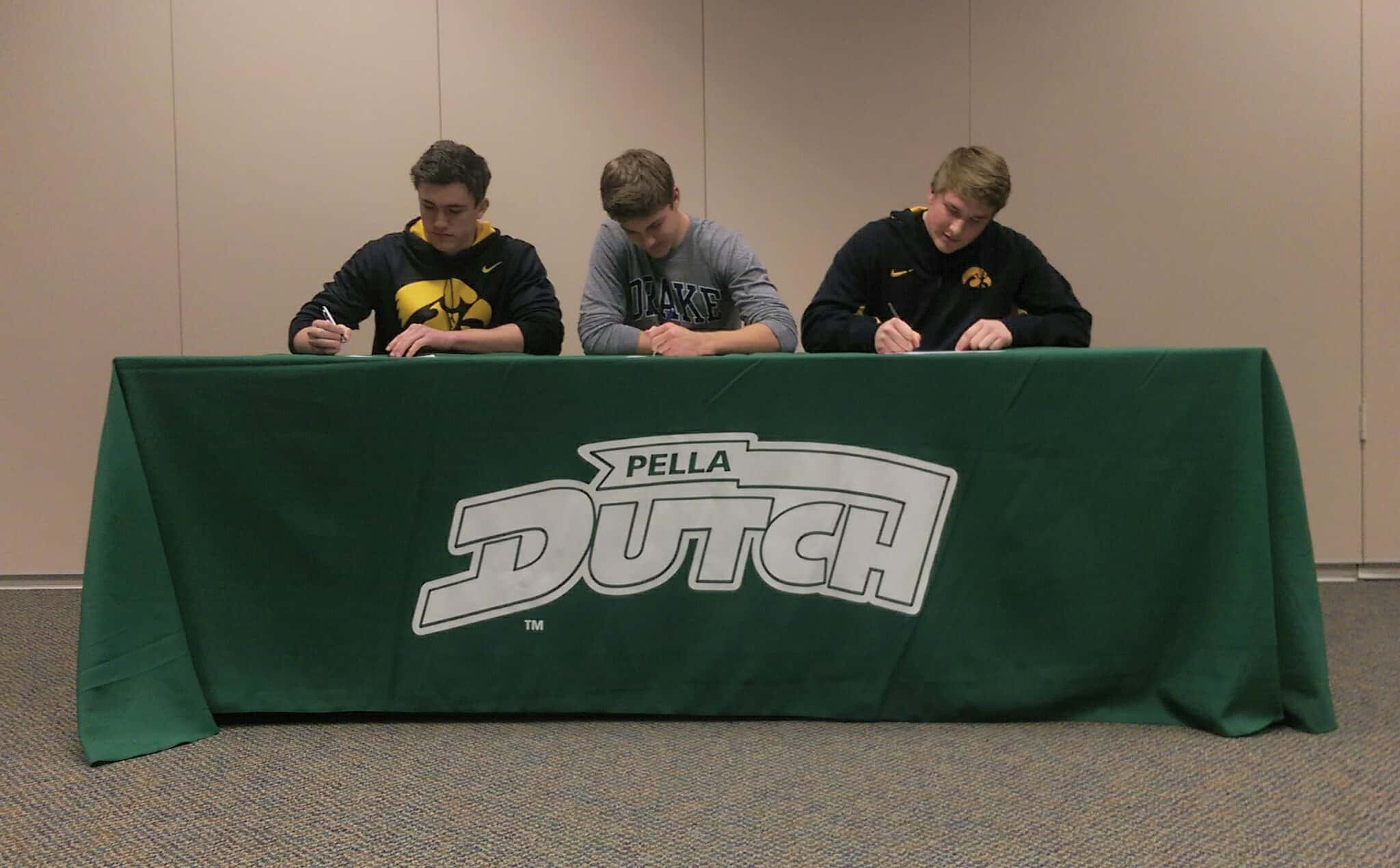 Three members of the back-to-back Class 3A State Football Championship teams at Pella High will continue their careers at the highest level.
Seniors Noah Clayberg and Austin Schulte have signed their National Letters of Intent to become Iowa Hawkeyes on scholarship offers, and Will Warner will be a Drake Bulldog.
The two-way standout Warner has been contemplating his sports future, whether it be basketball, soccer, or football. He chose the gridiron and Drake blue at first because he liked the educational opportunities, but it was then a matter of which sport to play.
"What one of the coaches said to me was that when I'm older, when I'm 30 or 40, I can still play pickup soccer and pickup basketball, but these are kind of the last years I will ever be able to play football again, and that's really what just kind of drove it home for me," Warner says.
Warner hopes to make an immediate impact.
"In the first few weeks, I'm just hoping to prove myself to the coaches that I can even play my freshman year," he tells KNIA/KRLS. "I know most guys don't play freshman year–most redshirt, but I just want to play as soon as possible."
Schulte missed the 2015 campaign due to a knee injury, but recorded four sacks on the 2014 championship team. Schulte, who will likely be redshirted in his first year, tells KNIA/KRLS Sports his rehab has been successful thus far, and he's anxious to make the jump.
"Training has gone really well…I'm leaving for Iowa on the 13th of June, actually, to spend the summer there, to take some classes and to start on the strength program, and they will do an evaluation of me there just to see how everything is going."
The Iowa Gatorade Player of the Year, Clayberg demolished defenses in his three varsity years as a quarterback, but Noah will transition to the defense full-time after receiving a grayshirt offer from Iowa. Clayberg says Iowa coaches told him to be patient, and he jumped on board as soon as the opportunity presented itself.
"Iowa makes a great fit for me because it's close to home, they're going to have a great football tradition, and when I visited there, you just get the feeling that it's the right place," he says.
Clayberg says with now three Pella Dutch players on the Iowa roster, he's hoping for a reunion sometime in their black-and-gold future in Iowa City.
"I would say the ultimate goal right now, is to get Garrett, Austin, and I all on the defense at the same time — have three Pella guys all starting for the Hawkeyes' defense."
Podcast: Play in new window | Download