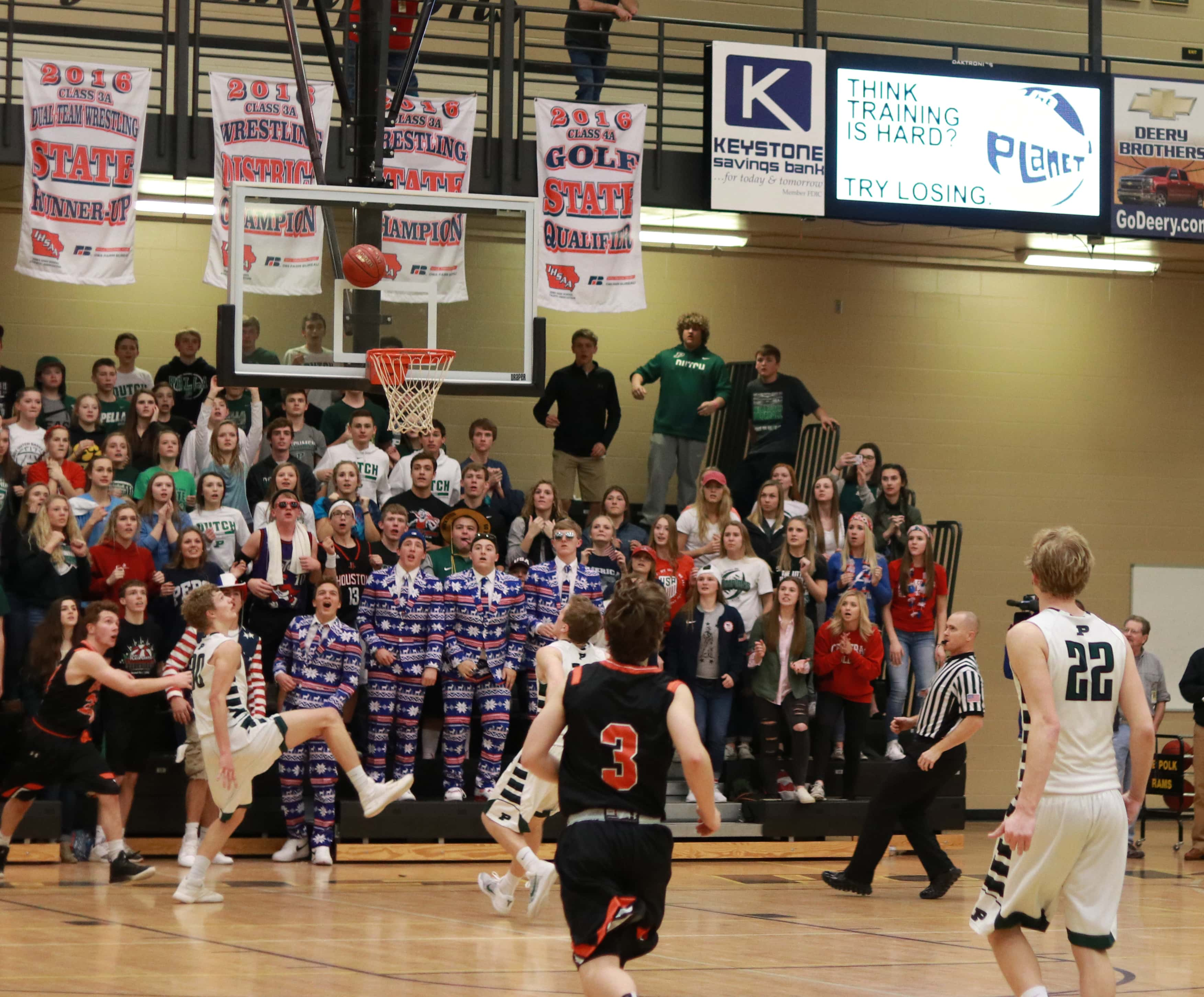 Trailing by four with just over two minutes remaining, the Pella High boys basketball team did what it has all year – stay composed, finish strong, and win the game. The rallied Little Dutch to top Grinnell 55-53 last night in a game heard live on 92.1 KRLS – sending Pella back to the state tournament.
Down 48-44, Pella made a defensive switch, moving Donovan Holterhaus to the point of an extended 1-3-1 defense because Ryan Van Wyk had picked up his fourth foul.
The Little Dutch scored 6 of the next eight points to tie the game at 50, when Holterhaus came up with the play of the game, a steal and layup to give Pella a 52-50 lead.
Holterhaus and Nick Finney then trapped Grinnell's Sam Allen, forcing an over-and-back violation to turn the ball back over to Pella with just under a minute left.
It took the Tigers nearly 30 seconds to commit the five fouls necessary to send the Little Dutch to the free throw line, and it was Kobe Diers who calmly knocked down a pair to give Pella a four-point lead.
"Well I knew that there was a chance that I'd be put in there at the end for Nick De Jong just based on shooting percentages. And so I did get put in and I got the ball because they were guarding Nick (Finney) so hard. I just tried to treat it just like any other free throws, like I was shooting in practice. I tried to zone out the fans and knock 'em down."
After Diers' free throws, Allen buried a three for Grinnell to cut the Pella lead to one, then Nick Finney made one of two free throws for the Little Dutch. Allen's right elbow leaner was short with the clock winding down, and neither team could coral the rebound as time expired.
Ryan Van Wyk led Pella with 14 points, Drew Pringle added 13 and Holterhaus scored 11 to go along with his game high 9 rebounds.
Pella improves to 22-2 and advances to next week's state tournament. The brackets will be announced tomorrow afternoon.