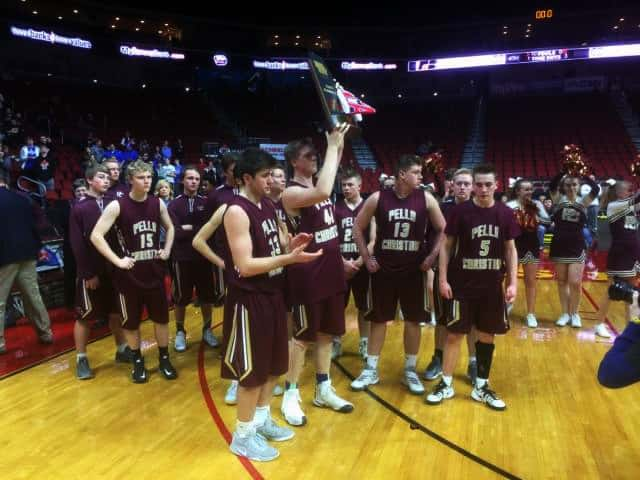 The Pella Christian basketball team will have to wait another year for their fourth-ever championship after falling 62-50 to Western Christian in the Class 2A finals last night in Des Moines.
In a championship game heard live on 92.1 KRLS, Western came out firing from beyond the arc early in the contest in which the Eagles never held a lead. PC, despite numerous opportunities to close the gap, never found rhythm against the shorthanded Wolfpack, who were down two starters due to suspension of team rules for the entire week.
Western shot 61 percent in the field to take a 31-25 lead into the halftime break, and while the Eagles had chances to close the gap, the Wolfpack had all of the answers as they finished with seven three-pointers and . Pella Christian pulled to within two with three minutes left, but a pair of missed layups doomed the Eagles, who fell further behind as time expired in the 4th quarter.
Assistant Coach Dan Branderhorst tells KNIA/KRLS Sports it was a struggle to contain Western's top three players Ben Gesink, Jesse Jansma, and Ben Harmsen, who accounted for 54 of their points.
"We got caught helping down a few times on pin screens and that really cost us early in the first half, and then, after Jansma got going, it wasn't long before Alex [Pringle] got caught in a few screens and then Harmsen gets a few shots, so you lose one guy he makes shots, you lose another guy he makes shots, and it was just difficult for us defensively," he says.
Kenden Veenstra led the charge for PC, scoring 12 points. The Eagles' top stars struggled at times as Western keyed on them heavily, with Levi Jungling scoring all of his 11 in the second half and David Kacmarynski finishing with nine points and 10 rebounds. Both were selected to the all tournament-team.
Pella Christian finishes runners-up for the fifth-time under head coach Larry Hessing, and the tournament run marks the program's third straight top three finish. The Eagles say farewell to eight seniors.