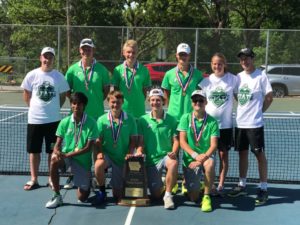 Pella finished third at the class 1-A boys state tennis tournament yesterday in Des Moines.
Making the final four for the first time since 1999, the Little Dutch were knocked off by Cedar Rapids Xavier in the semifinals yesterday morning, 5-2.
They then came back in the afternoon to beat Kuemper Catholic of Carroll, 5-4.
That victory over the Knights was the first official victory at the state tournament in school history. Pella shared a team with Pella Christian in 1993, when they also finished third place after winning in the consolation match.
CEDAR RAPIDS XAVIER 5, PELLA 2
SINGLES
#1 – Jon Lansing (X) def. Jordan Roozenboom (P) 6-1, 6-1
#2 – Alex Hinrichs (X) def. Ani Tangellapalli (P) 6-1, 6-2
#3 – Charlie Esker (X) def. Michael Reed (P) 7-6(3), 6-2
#4 – Blake Magill (X) def. Reid Leidigh (P) 6-2, 1-6, 6-3
#5 – Benjamin Lauritsen (P) def. Calvin Ford (X) 6-4, 2-6, 6-3
#6 – Colton Edwards (P) def. Ryan Jasper (X) 6-1, 6-2
DOUBLES
#1 – John Lansin, Charlie Esker (X) def. Jordan Roozenboom, Ani Tangellapalli (P) 6-0, 6-3
PELLA 5, KUEMPER CATHOLIC 4
SINGLES
#1 – Jordan Roozenboom (P) def. Tanner Finken (K) 7-5, 7-5
#2 – Cameron Pille (K) def. Ani Tangellapalli (P) 7-5, 6-4
#3 – Michael Reed (P) def. Justin Schroeder (K) 3-6, 6-3, 1-0(6)
#4 – Reid Leidigh (P) def. Reed Rawlings (K) 6-1, 1-6, 1-0(4)
#5 – Matthew Dentlinger (K) def. Benjamin Lauritsen (P) 6-4, 6-2
#6 – Colton Edwards (P) def. Colin Uhlenkamp (K) 6-3, 6-1
DOUBLES
#1 – Tanner Finken, Cameron Pille (K) def. Jordan Roozenboom, Ani Tangellapalli (P) 6-1, 6-1
#2 – Michael Reed, Benjamin Lauritsen (P) def. Justin Schroeder, Reed Rawlings (K) 7-5, 6-4
#3 – Matthew Dentlinger, Colin Uhlenkamp (K) def. Reid Leidigh, Ryan Van Maanen (P) 4-6, 6-4, 1-0(4)