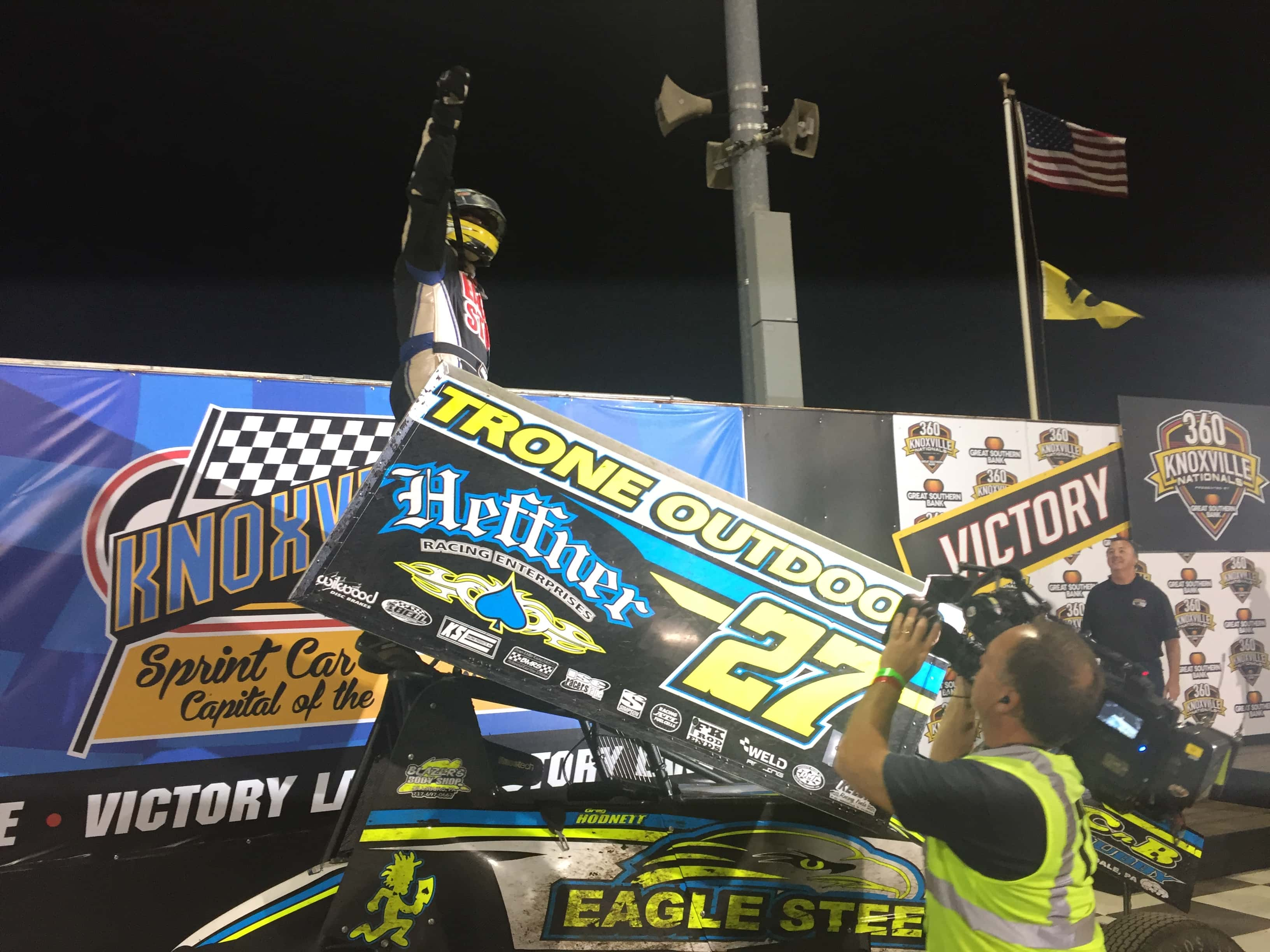 The State of Pennsylvania is having a great 360 Nationals. Thursday Tim Shaffer from Pennsylvania won opening night of the 27th Annual 360 Nationals, and now another predominantly 410 driver Greg Hodnett from the Keystone State took night two of the 360 Nationals last night at the Knoxville Raceway. Trey Starks, from Washington, but has raced nearly all season in Pennsylvania took off from the pole and led the first lap, Brian Brown got him on lap two, Starks slid him to take the lead for laps 3-7. However a yellow on lap eight allowed Hodnett to regroup and take the lead on the restart and then pulled away for a nearly three second win. Hodnett told KNIA/KRLS Sports he ran the bottom on advice of a driver that knows how to get around the bottom at Knoxville. Brown would settle for second, while Starks took third. The field is now set for Championship Night of the 360 Nationals and for the second straight year, Clint Garner will start on the pole with Wayne Johnson beside him in the front row. Two Knoxville weekly drivers occupy the second row with Nate Van Haaften and Jamie Ball. Some notables, Thursday's winner Tim Shaffer starts sixth, Hodnett will start seventh, Brown will take off in 12th, Ian Madsen will start 18th, Danny Lasoski 19th and Knoxville's Calvin Landis claimed the final A-Main position in 20th.
A main
1. Greg Hodnett
2. Brian Brown
3. Trey Starks
4. Clint Garner
5. Jeff Swindell
6. Dusty Zomer
7. Nate Van Haaften
8. Wayne Johnson
9. Sam Hafertepe Jr.
10. Christopher Bell
11. Jason Martin
12. Tayler Malsam
13. Tim Kaeding
14. Johnny Herrera
15. Chris Martin
16. Terry McCarl
17. Ryan Giles
18. Cole Duncan
19. Jamie Veal
20. Jared Horstman
21. Sawyer Phillips
22. Scott Bogucki
23. Parker Price-Miller
24. Chad Kemenah
Lap Leaders: Starks 1, Brown 2, Starks 3-7, Hodnett 8-20. Hard Charger: Hafertepe, Jr.
Tentative Lineups for the 27th Knoxville 360 Nationals presented by Great Southern Bank:
A Main
1. 40, Clint Garner, 485
2. 2C, Wayne Johnson, 478
3. 3, Nate Van Haaften, 474
4. 5J, Jamie Ball, 473
5. 87, Aaron Reutzel, 471
6. 49X, Tim Shaffer, 470
7. 27, Greg Hodnett, 469
8. 17B, Josh Baughman, 467
9. 1, Thomas Kennedy, 467
10. 23, Seth Bergman, 467
11. 14B, Christopher Bell, 466
12. 21, Brian Brown, 465
13. 4, Jon Agan, 465
14. 94, Jeff Swindell, 462
15. 15H, Sam Hafertepe Jr., 460
16. 55S, Trey Starks, 453
17. 13V, Seth Brahmer, 451
18. 18M, Ian Madsen, 451
19. 1M, Danny Lasoski, 450
20. 70, Calvin Landis, 448
B Main (4 transfer)
1. 2M, Matt Moro, 447
2. 82, Dusty Zomer, 446
3. 6, Carson McCarl, 442
4. 22, Rager Phillips, 442
5. 24, Terry McCarl, 441
6. 28, Jonathan Cornell, 441
7. 36, Jason Martin, 435
8. 44, Chris Martin, 435
9. 26, Tayler Malsam, 433
10. 35, Skylar Prochaska, 430
11. 5H, Cory Eliason, 428
12. 3K, Tim Kaeding, 428
13. 45X, Johnny Herrera, 424
14. 56N, Davey Heskin, 423
15. 18, Ryan Roberts, 420
16. 23S, Stu Snyder, 419
17. 35V, Jamie Veal, 418
18. 23D, Devon Dobie, 416
19. 9, Ryan Giles, 416
20. 41, Dominic Scelzi, 416
C Main (4 transfer)
1. 21AU, Jordyn Brazier, 414
2. 3S, Sammy Swindell, 412
3. 71, Joey Saldana, 412
4. 14, Tony Stewart, 412
5. 17, Tyler Groenendyk, 409
6. 55, McKenna Haase, 408
7. 67X, Parker Price-Miller, 407
8. 10H, Chad Kemenah, 407
9. 17W, Harli White, 406
10. 12N, Cole Duncan, 405
11. 17H, Jared Horstman, 405
12. 84, Scott Bogucki, 402
13. 53, Joe Beaver, 397
14. 23W, Scott Winters, 397
15. 77X, Alex Hill, 396
16. 5M, Troy Manteufel, 388
17. 75AU, Matt Egel, 387
18. 9, Matt Juhl, 386
19. 3P, Sawyer Phillips, 378
20. 99, Skylar Gee, 353
D Main (4 transfer)
1. 4J, Lee Grosz, 352
2. 71C, Stacey Alexander, 352
3. 95, Matt Covington, 350
4. 9N, Wade Nygaard, 342
5. 1J, Danny Jennings, 342
6. 45, Chuck Hebing, 339
7. 12, James Mosher, 339
8. 1B, Ryan Leavitt, 334
9. 52, Blake Hahn, 334
10. 40H, Howard Moore, 333
11. 35L, Cody Ledger, 332
12. 7, Michael Bookout, 331
13. 25, Dylan Peterson, 328
14. 16, Dustin Clark, 327
15. 22S, Sean McClelland, 327
16. 9M, Ricky Montgomery, 324
17. 10C, Jeremy Campbell, 319
18. 8M, Kade Morton, 319
19. 27B, Patrick Bourke, 316
20. 63, Brooke Tatnell, 315
E Main (4 transfer)
1. 93, Dustin Morgan, 314
2. 1A, John Anderson, 310
3. 9L, Hunter Lane, 310
4. X1, Mason Moore, 308
5. 33, Alan Zoutte, 307
6. 7M, Chance Morton, 305
7. 98, Chris Masters, 300
8. 9Z, Jared Goerges, 295
9. 38, Mike Dapra, 282
10. 26X, Josh Higday, 269
11. 53D, Jack Dover, 265