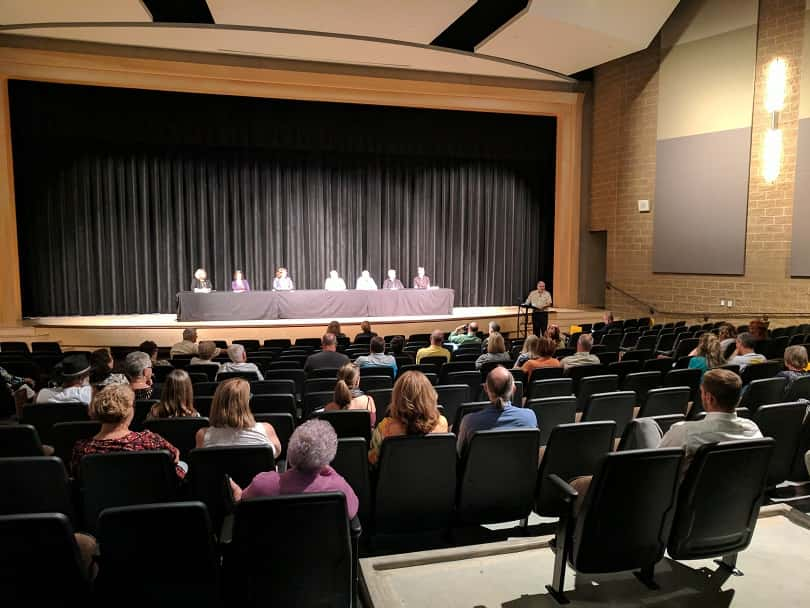 The Knoxville School District held two events at the Knoxville Performing Arts Center Wednesday evening.
The school district began the night with an open forum on Proposition A which would potentially bring eight new tennis courts and a full sized basketball court to Knoxville if voters vote yes during the September 12th election. The school district shared its goals for the courts with the community, and community members shared their thoughts and concerns. One Knoxville resident told the audience the tennis courts project is a way to keep making Knoxville better.
Following the forum the Iowa Association of School Board's Harry Heigilenthal moderated the Meet the Candidates event. Heigilenthal spoke to the crowd about how important it was to attend the event and be better informed voters when going to the polls. Vickie Reed, Andrew Schmidt, Marty Duffy, Cheri Gerdes, Dawn Rankin, Larry Scott, and Darbie Utterback had a chance to answer questions and share their views and opinions in front of a live audience. The Meet the Candidates event was broadcast live on 1320 AM and 95.3 FM KNIA which gave the residents of Knoxville who couldn't attend a chance to learn more about their candidates before the school board election on September 12th.