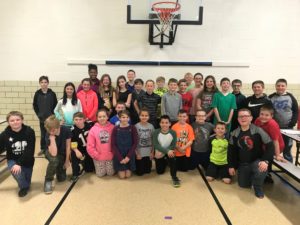 Fourth and fifth grade students at North Star Elementary in Knoxville presented projects for students and parents last Friday night.
The projects for fourth graders to choose from included learning about a different country in the world for New Culture, choosing a career and figuring out taxes and salary as well as building a home you can afford on Minecraft for Financial Adventure, and learning about keeping healthy with Fitness Pursuit. Fifth grade students chose from planning a vacation to anywhere in the world on a budget for Travel Passport, learn how the stock market works and investing in companies with Stock Market Challenge, and picking out a career and planning out further education in Career Aspirations.
4th Grade Project Options –
1. New Culture – choose a country in the world and then learn about the food (make a dish from their country), language, the fashion (make a fashion magazine), transportation (make 3-D object), and learn what life is like as a kid.
2. Financial Adventure – choose a career and then figure out the taxes, the home you can afford, design blueprints and build a home on Minecraft from those, and learn ways to be frugal from a teacher.
3. Fitness Pursuit: – learn about the ways to each healthy, exercise healthy, sleep healthy, and ways to exercise your brain.
5th Grade Project Options-
1. Travel Passport: Plan a vacation to anywhere in the world with a budget. Figure the cost of every last detail and then share creatively about your trip.
2. Stock Market Challenge: Learn how the stock market works, take 1 million fake dollars and invest it in 3 companies for 6 weeks. See how can make the most money. create a website to show your data.
3. Career Aspirations: Pick a career, figure out the high school path, the college path and prices that it would take to get you to your career goals.
4th grade: Cooper Mattox, Luke Roozeboom, Zach Boender, Edie Anderson, Cael Cook, Tristan Mobley, Dominic Davis, Isaac Rankin, Celia Marean, Austin Bishop, Urban Ziller
5th Grade : Kyl Bauer, Janie Maasdam, Christian Braida, Ezra Schmidt, Ethan Cahill, Rylan Robinson, Mason Anderson, Landen Norris, Ethan Russell, Marlea Cox, Hannah Dunkin, Anderson Staton, Gabe Clark, Aubri Murphy, Madi Day-Suhr, Lukas Klootwyk, Carson Cecil, Elliot King, Macy Cox
Comment from Mr. Roozeboom: It has been very cool to see these kids stay committed and work this hard on a long term project with several steps involved. We live in a world where kids want instant everything, so to see them put in the hard work is awesome. Seeing them use technology the way they do to make their projects come to life is fun to watch. I was also impressed with their ability to get up and practice public speaking in front of peers and adults. This is a life skill that is going to help them down the road.
Comment from Mr. Kietges (Northstar Principal):
I appreciate the students' efforts they've put forth with these projects. Planning, preparing, problem-solving, creativity are all essentials skills needed to be successful in life. These students have put in many hard working hours to accomplish a final project that they now can present to fellow classmates and community members. I'm thankful for Mr. Roozeboom for providing them this opportunity and very proud of the students for their efforts.
Cooper Mattox (4th Grader) comments on Financial adventure: The hardest part was making my own blueprints and then building it on Minecraft. I had to keep adjusting along the way when I would make mistakes.
Edie Anderson (4th Grader) comments on New Culture: My favorite part was when we learned about the food in our culture. I liked that we got to make a recipe from our culture and bring it in for everyone to eat.
Dominic Davis (4th Grader) comments on Fitness Pursuit: My favorite part was getting up and presenting because I can show people my hard work. The most interesting thing I learned was that not getting enough sleep over a long period of time can lead to early death.
Janie Maasdam (5th Grader) comments on Travel Passport: The thing I enjoyed most was using the 3-D pen because I got to be creative and make something cool. One thing I learned was that you have to keep track of your money if you have a budget because I went over by $177.
Hannah Dunkin (5th Grader) comments on Career Aspirations: The most challenging thing for me was interviewing Dr. McKeever about being a medical examiner because that is what I want to be. His answers let me know it will be hard to see the things that he sees. But yes I still want to be a medical examiner because I am interested in the human body.
Rylan Robinson (5th Grader) comments on Stock Market Challenge: I liked learning how the stock market works and then applying it. The thing that I learned about the stock market was what stocks I should invest in to make money and which ones would lose me money.

Mason Anderson (5th Grader) Stock Market Project: sharing with adults on Friday evening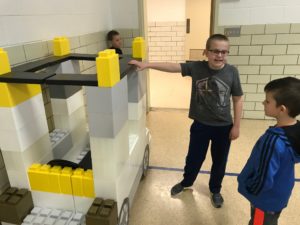 Tristan Mobley 4th grade (lifesize legos to build vehicle from his country)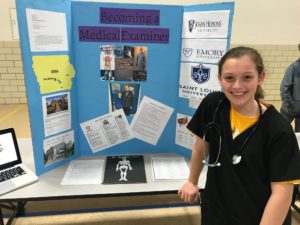 Hannah Dunkin (5th Grader) Career Aspiration Project. Wanted to be a Medical Examiner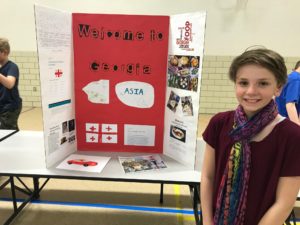 Celia Marean (4th Grade) New Culture Project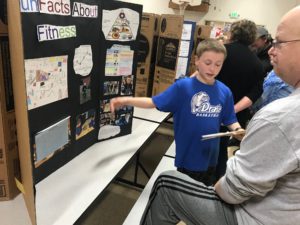 Pic of Isaac Rankin sharing to his dad . (4th Grader)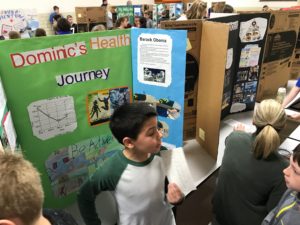 Pic of Dominic Davis sharing his health Journey Project . (4th graders)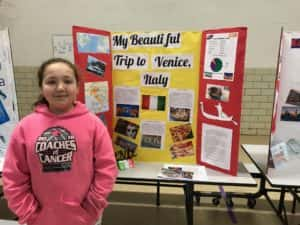 Aubri Murphy (5th grader) . Travel Passport project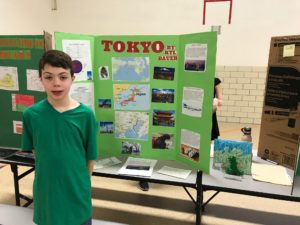 Kyl Baur 5th grader. Travel Passport project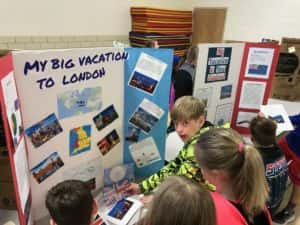 Carson Cecil 5th grader sharing his Travel Passport project with students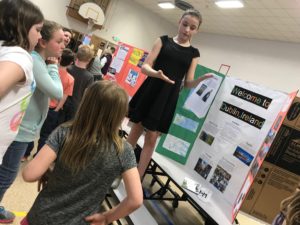 Madi Day-Suhr sharing her Travel Passport project to students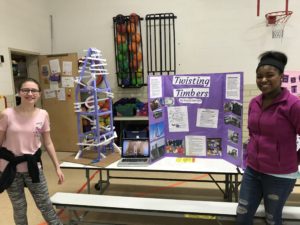 Ella Pelong and Natalia Schneider. These two studied the history of roller coasters and then got to make one out of only paper. A marble traveled down the coaster.