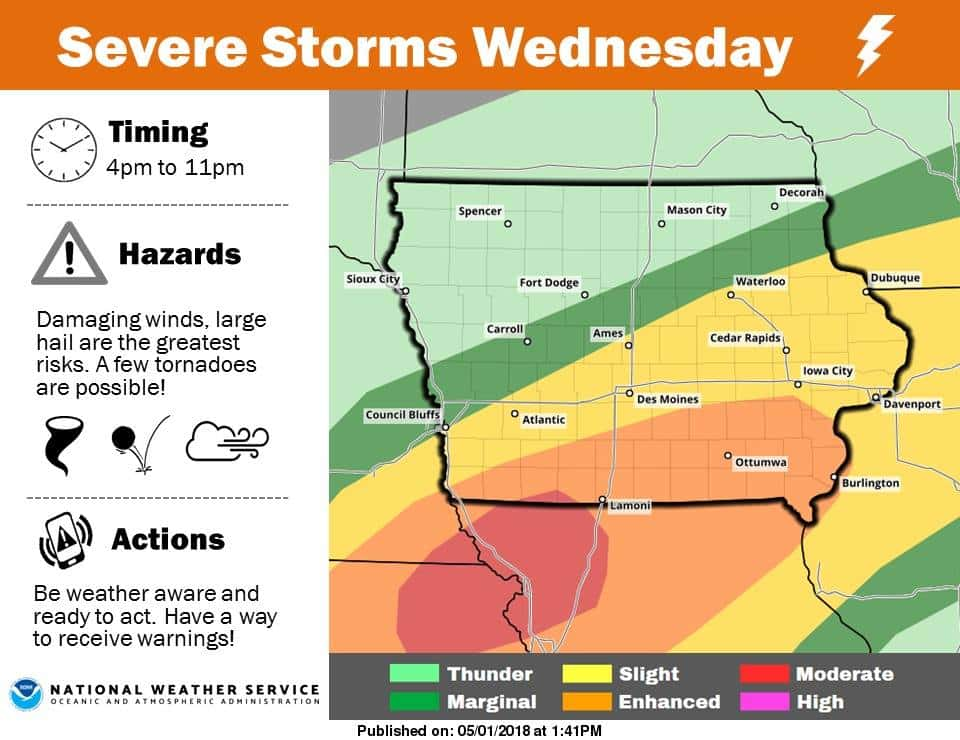 Those attending the 83rd annual Tulip Time festival in Pella are reminded to be weather aware on Wednesday and Thursday.
According to the National Weather Service, an enhanced risk of severe weather is in place Wednesday and a slight risk is issued for Thursday. An enhanced risk means numerous severe thunderstorms are possible in a given area, with damaging wind and large hail as the primary threats. A slight risk is given for severe storms that are generally scattered and isolated. Chances are also increased for heavy rain through early Friday.
The Pella Police Department is asking festival attendees to be mindful of the potential conditions, especially during the Klompen Classic and first day of Tulip Time and in the afternoon and evening hours. Pella Police Chief Robert Bokinsky tells KNIA/KRLS News they are partnering with Marion County Emergency Management to provide localized text message alerts. Anyone wishing to receive severe weather updates for the immediate area of Pella during Tulip Time can text pella tulips marion to 69310 and they will receive a kickback acknowledgment message confirming they're enrolled. When they wish to stop receiving the alerts, they can text stop to 69310.
Bokinsky says numerous buildings have been designated as emergency shelters near the downtown area, and announcements of those locations will be made if a warning is issued for the Pella area.
He encourages anyone to listen to live updates during severe weather in Pella by tuning into AM 1320, FM 95.3 KNIA and 92.1 KRLS for Severe Weather Action Team coverage and to download the KNIA or KRLS apps to listen live on any mobile device. KNIA/KRLS will be on the air live for any severe thunderstorm or tornado warning in any portion of Marion County.
According to the National Weather Service, sunny skies and temperatures in the mid 70s during the afternoon are in the forecast Friday and Saturday.