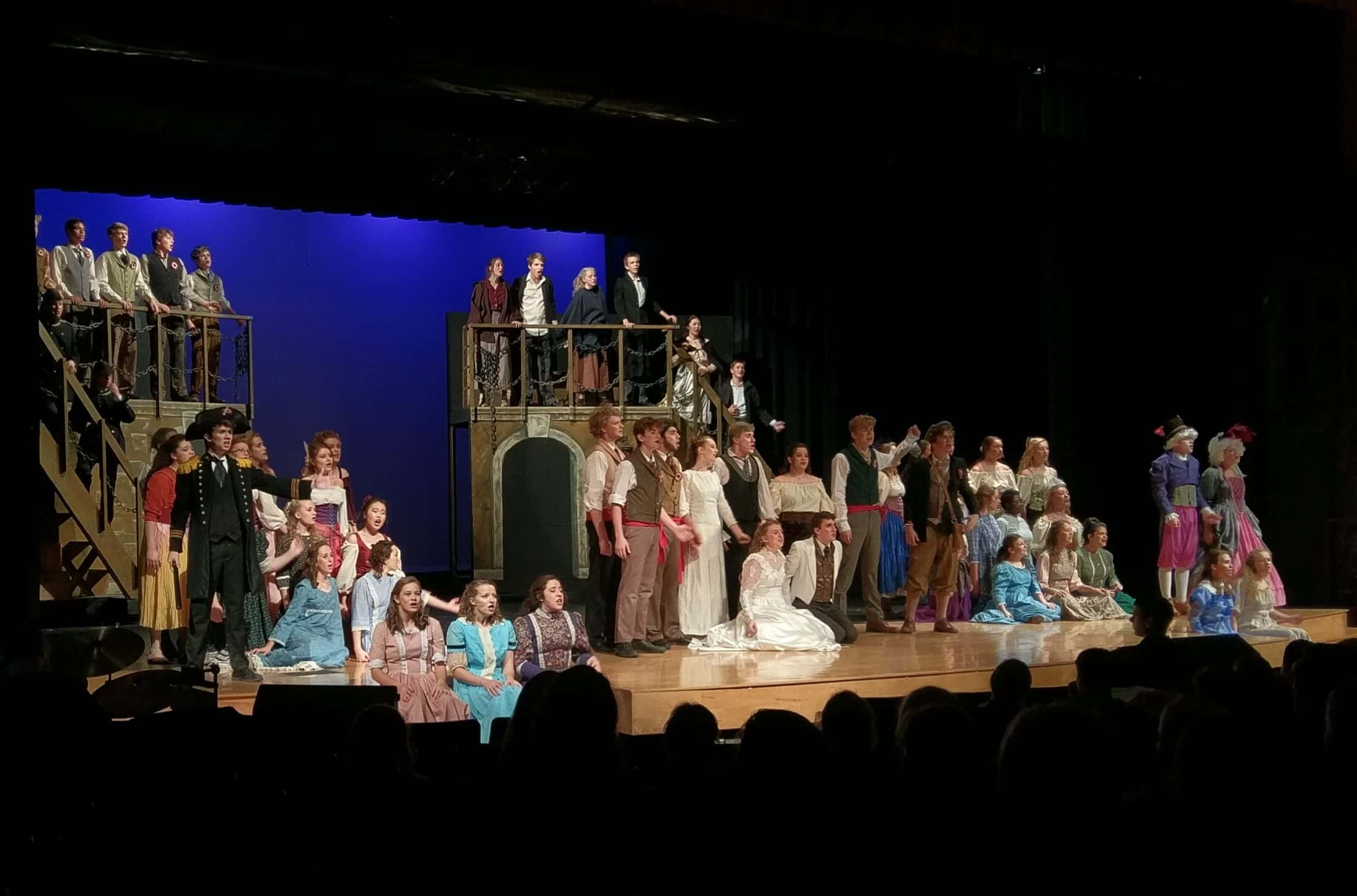 Students from Knoxville, Pella Christian, and Pleasantville all were honored in the annual Iowa High School Musical Theatre Awards.
Performers from the three schools have been invited to perform at the annual Iowa High School Musical Theatre Awards showcase on Monday, June 4th at the Des Moines Civic Center
Tickets to the showcase, which start at $15, go on sale on Wednesday, May 16 at 9 AM at DMPA.org or the Civic Center Ticket Office. Hear more from Pella Christian's honorees on today's Let's Talk Pella.
Archived interviews with Knoxville and Pleasantville award-winners are available by clicking the red name of the school.
A panel of adjudicators, including performing arts professionals and educators, awarded Pella Christian's fall production of Les Misérables with an Outstanding Overall Technical and Creative Achievement Award. Other honors include Special Recognition for a Performance in a Principal Role for: Thomas Dykstra (as Jean Valjean), Mara Juffer (as Cosette), Colby De Vries (as Thenardier), and Emma Stravers (as Madame Thenardier).
Pleasantville will be honored in a special video shown at the Showcase, in celebration of its receipt of an Outstanding Overall Performance Award – one of the program's highest
honors.
Select students will represent Pleasantville by performing in a collaborative inter-school medley led by guest Broadway music director, Adam Jones, and choreographer, Sara Brians. Pleasantville has the unique honor of placing three students in the "Outstanding Performance" medley. These performers will perform an excerpt from their award-winning individual roles in "The 25th Annual Putnam County Spelling Bee:" Chance Bender as William Barfee, Avery Lauer as Leaf Coneybear, and Jack Ray as Chip Tolentino.
These three will also audition for the opportunity to represent Iowa at the National High School Musical Theater Awards in New York City this summer as part of the Triple Threat Award program. Prior to the Awards Showcase, Jack Lauer will exhibit his award-winning work as Stage Manager as part of the showcase's Technical and Creative Achievement
Gallery in the Civic Center Lobby.
Pleasantville will also be recognized with the following awards and honors:
– Outstanding Overall Performance
– Outstanding Performance in a Principal Role—Chance Bender as "William Barfee"
– Outstanding Performance in a Principal Role—Avery Lauer as "Leaf Coneybear"
– Outstanding Performance in a Principal Role—Jack Ray as "Chip Tolentino"
– Outstanding Stage Management—Jack Lauer
– Special Recognition for Ensemble
Knoxville Awards (Disney's High School Musical):
Production Awards
Outstanding Overall Technical and Creative Achievement
Student Awards
Outstanding Performance in a Principal Role – Lane Franck as "Ryan Evans"
Outstanding Performance in a Principal Role – Taryn Johnson as "Sharpay Evans"
Special Recognition
Special Recognition for Performance in a Principal Role – Kaley Iddings as "Gabriella Montez"
Special Recognition for Performance in a Principal Role – Ben Marti as "Coach Bolton"