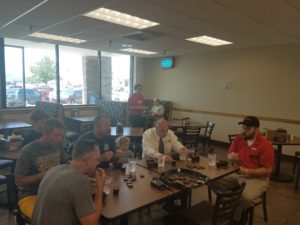 Five lucky participants competed in a Reese's Peanut Butter Cup eating contest today at the Knoxville Hy-Vee.
Contestants had to eat as many cups as they could in 30 seconds. Knoxville Mayor Brian Hatch and Chad Dejong with the Knoxville Rural Fire Department tied for the top honors with six eaten, while KNIA/KRLS General Manager Jim Butler and Knoxville Hy-Vee Assistant Director Brandon Marean ate four, while Knoxville Football Head Coach Erik Kellar ate three. The winners had this to say after being crowned champions
Chad Dejong
"I never thought I'd eat that many Reese's in my life…..in 30 seconds"
Mayor Brian Hatch
"It would have been better if I had beat Chad…but I had fun, I liked it"
Both winners declined to compete professionally after their victory.