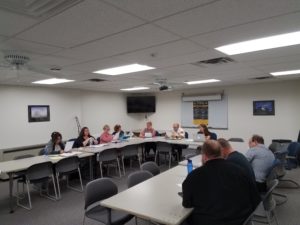 Knoxville's suicide prevention task force has renamed itself as the Marion County Coalition for Suicide Prevention.
Members met yesterday to decide on plans of how to bring the organization forward, and to continue the work of the January 25th suicide prevention town hall. The coalition agreed upon monthly meetings with different plans of action occurring on the fourth Wednesday of each month, with the first meeting on July 25th at the Knoxville High School Media Room from 6-7:30pm.
Stacy Haas with the coalition tells KNIA/KRLS News despite being in the planning stages, they have been doing a lot of work with education and training, as over 200 people since January have been given training, with over 85 in the past month, on signs and symptoms to spot a potential suicidal subject and ways to help.
Anyone interested in joining the Marion County Coalition for Suicide Prevention can attend the July 25th meeting, or contact Marion County Public Health at (641) 828-2238.