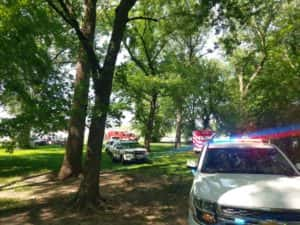 UPDATE AT 5:55: One fatality has been confirmed by police.
UPDATE at 5pm: Rescue crews have found an individual believed to be a possible drowning victim at Lake Red Rock. A dive team from Pleasantville Rescue pulled what appeared to be a body downstream from the Red Rock Damn to shore.
Another possible drowning victim has been transported to Pella Regional. Numerous 911 calls were made just before 3 p.m. of a possible drowning. The U.S. Army Corps of Engineers, Marion County Sheriff's Office, Pella Police Department, Pella Fire, Knoxville Fire and Rescue, Pleasantville Rescue, and Pella Ambulance assisted with the search.