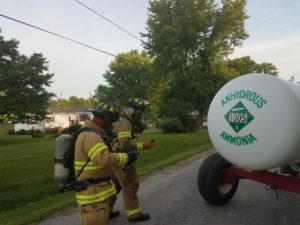 The Marion County Hazardous Materials Response Team recently underwent training in Tracy, assisted by and including members of the Knoxville Township Rural Fire, Clay Township, Indiana Township, Melcher-Dallas Fire, Pella Fire, Pleasantville Fire, and Bussey Fire Departments, as well as Two Rivers Cooperative and Marion County Emergency Management.
The training scenario included a crashed truck towing anhydrous ammonia tank, and the response team was unsure if the container was leaking. The response team performed chemical tests in the air to determine if a leak was occurring, were cleaned of chemicals at a wash station, and built a sandbag dam to contain and clean the simulated leak further downstream a creek.
Marion County Emergency Management Coordinator Jeff Anderson tells KNIA/KRLS News he can see the team respond to the training they have had over the last year because now the exercises involve several layers of difficulty with different scenarios, and also added that he admires the dedication of the entire team to take time out of their schedule to train and put in the hard work necessary to learn the necessary information.
The training was conducted by Jerry Eslick of Professional Rescue Innovations, which specializes in training programs for industrial and fire/rescue personnel.