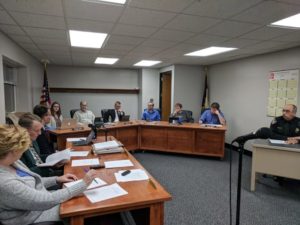 The Knoxville City Council met in regular session yesterday.
The council held a public hearing on the rezoning of the property at 502 E Main St. in Knoxville, and approved the change to multi-family residential. The council officially entered into a purchase agreement with Red Lion Renewables to provide solar energy for the city. Representatives from Mid-American Energy approached the council opposing the project and requested the council delay signing the agreement until Mid-American can provide further information.
Councilwoman Megan Suhr expressed frustration with Mid-American, as information on the project has been publicly available for months now and approaching the council on the night of the signing was far too late in the process. Suhr, and Councilman Dylan Morse and Cal Stephens voted in approval of signing the agreement, while Rick Kingery voted no in favor of waiting for more time to hear from Mid-American. Councilman James Lane was not present for that portion of the meeting.
The council also approved several change orders to the Young's Park improvement project concerning electric wiring and the sewer system upgrades.