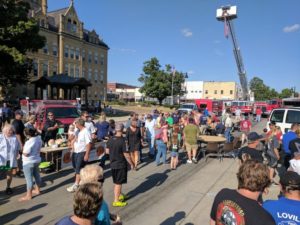 The second annual Marion County Public Safety Night Out is scheduled for September 11th in commemoration with 9/11.
Marion County Public Safety Night Out is a chance for Marion County residents to meet the first responders and emergency management staff, interact with them, and say thank you for all that they do.
Marion County Emergency Management Coordinator Jeff Anderson tells KNIA/KRLS News the event allows residents to meet the public safety personnel in a positive way because most of the time when you see a police officer or other first responder you aren't having a great day one way or another, and this will be a good time to be able to talk to them.
The event take place on the downtown Knoxville square, public safety equipment will be on display, and food will be provided by HyVee.