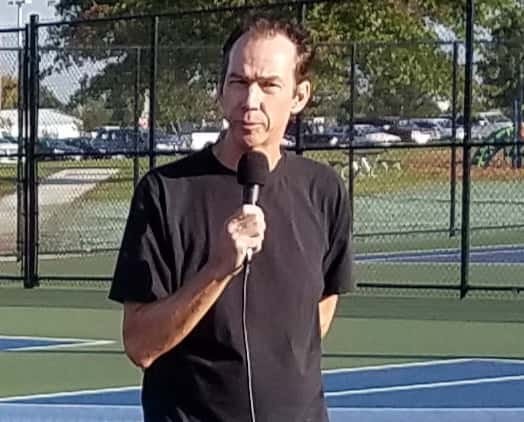 Joel Tonda returned to the school where he forged a winning tradition for the tennis program; and Knoxville High School repaid him for his efforts, by naming its new tennis complex in his honor.
Tonda was the featured speaker at Monday night's ribbon-cutting at the new courts; the Knoxville School District and the City of Knoxville came together to replace its aging municipal courts with a modern facility for use by the team, and the public.
Tonda told the crowd the courts here not only outclass most of the ones at high schools around the state, but compares with one he saw at a national tournament in Ohio.
"The courts at that, one of the most prestigious tournaments in the United States of America, were not any nicer than the courts we have here in Knoxville, Iowa," Tonda says. "That is just fantastic; we've played all over the state of Iowa, and there is not a comparable complex in the state of Iowa. So it is an amazing asset, a feather in Knoxville's cap, to have this as a beautiful facility."
Under Tonda's guidance, Knoxville dominated state and conference play for decades, culminating in a Class 1A boys team state title in 2001.
And the tradition continues, as nearly two dozen players showed up for the last tryouts.