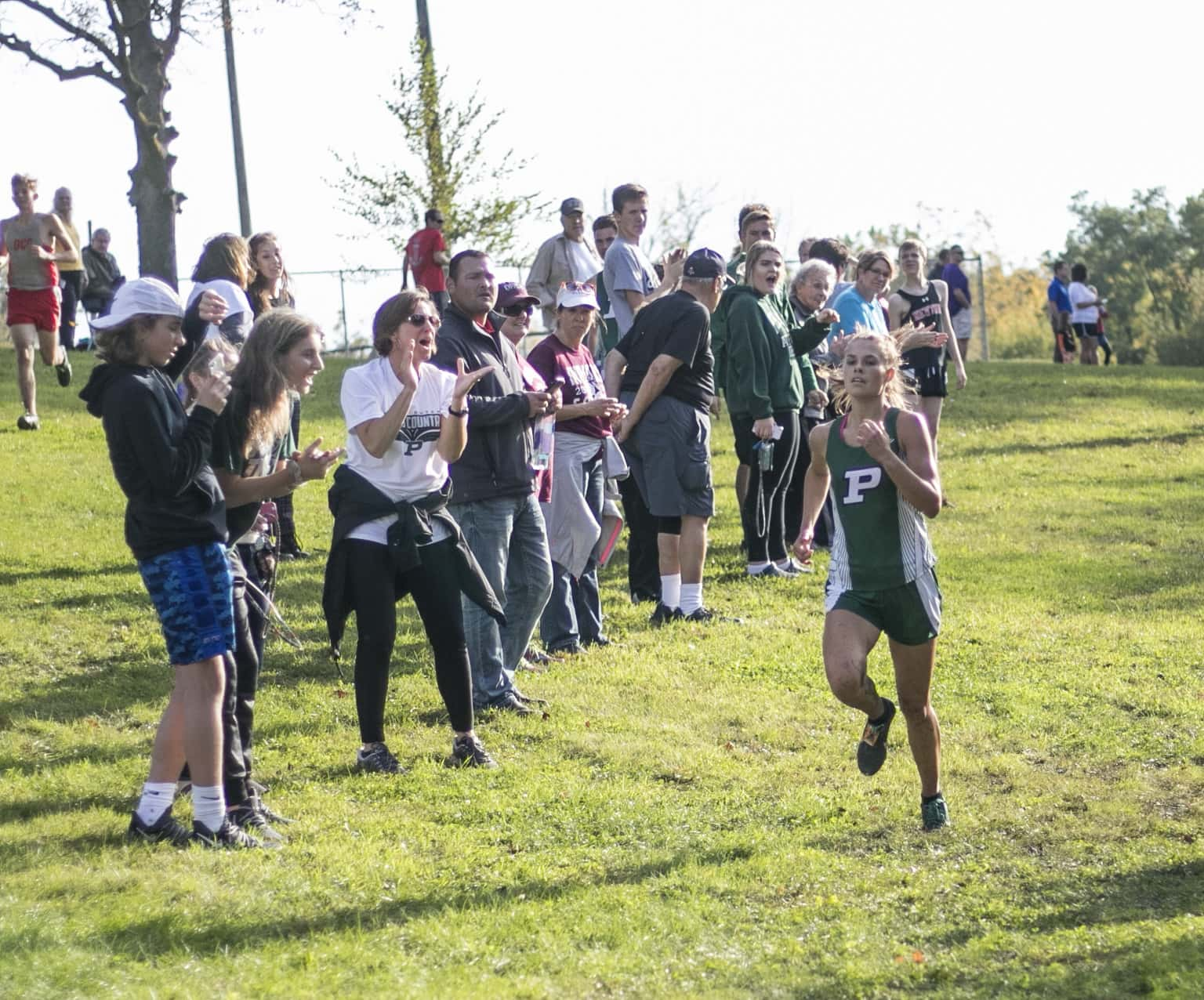 The cross country postseason started for the Tulip City runners at the conference meet Monday afternoon.
It was likely the most difficult course of the year to date for both Pella and Pella Christian, as a hilly, muddy Edmundson Park challenged the best distance runners of the Little Hawkeye Conference.
No. 4 Pella's girls finished 2nd (59), just eight points behind No. 6 DCG (51) for the conference crown. Caroline McMartin of the Lady Dutch won the individual championship with a time of 20:33.6. Head Coach Doug Cutler tells KNIA/KRLS Sports final sprint of her race was as impressive as he has seen in some time.
"In the last mile, you could see her look of determination kind of switching, and then the last half mile in particular, she really just bore down," he says.
Cutler was overall impressed with the girls, despite some slips and falls on the slick grass at the track. Makayla Cruse was 10th at 21:24, Chelsea Jorgensen was 13th at 21:58.3, and Ashley Blommers took 15th at 22:12.7, all earning them conference honors.
The Pella boys placed 3rd in a deeply talented boys field with 67 team points, behind winner Indianola (48 points) and runners-up DCG (55 points). Drew Van Hauen (6th, 17:56.7), Josiah Wittenburg (10th, 18:15.5), and Cutler Turner (18:17.4) earned all-conference honors.
Pella Christian finished 8th in both races (boys, 182 points, and girls, at 219 points). Eagles Head Coach Mike Buchheit tells KNIA/KRLS Sports despite the difficult numbers on the scoreboard, he was overall excited to see the P.C. athletes fight through tough terrain.
"It's a fast race with larger schools in it, with a lot of energy going into the ground when you have muddy conditions," he says.
The Eagles girls scored as a team for the first time since 2016, with Lindsey Breon–who hasn't competed since she was a freshman, adding a 5th score to the P.C. total.
Find full results of the Little Hawkeye Conference meet and photos from the races at KNIAKRLS.com.
Boys: http://onlineraceresults.com/race/view_plain_text.php?race_id=66353
Girls: http://onlineraceresults.com/race/view_plain_text.php?race_id=66352
Album: