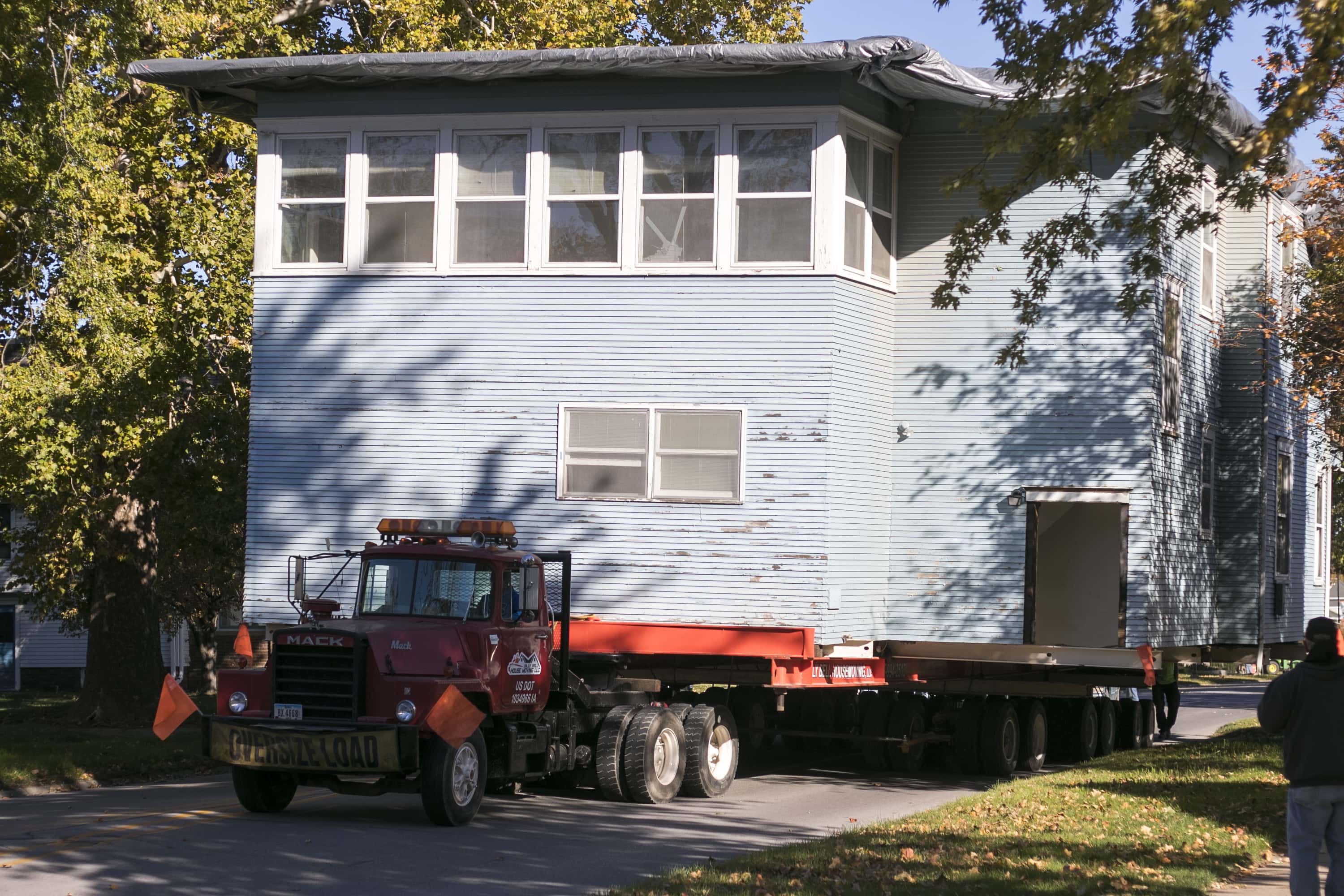 A historic home on the Central College campus is traveling to a new location.
The Boardwalk House, located at the northeast corner of Broadway and University streets, drew a great deal of attention earlier this year when the college partnered with Historic Pella Trust in an effort to find a new owner who could move the house to a new location. More than 100 interested parties originally expressed interest and attended an open house.
Mikol Sesker is the new owner of the Boardwalk House, and tells KRLS News it is making a journey to southern Marion County over the next several days, approximately 20 miles from its original establishment.
"It has always been a family dream to own and operate a sustainable organic farm. Sometimes life events really force you to reflect on your goals and take giant leaps of faith," Sesker says.
Mikol Sesker purchased 20 acres of farmland in Marion County and her brother Nathan got to work creating buffer zones and planting beds before his death from cancer in May 2017.
"Unfortunately, Nathan can't be here, but we can carry on his spirit and his dream," Sesker says. After he died, she dreamed of finishing the project and started looking for a large, older house to put on the homestead.
"I was originally looking for an American Four Square because it is one of my favorite styles. It just happened that my Mom (Jane Sesker) saw the coverage about the Boardwalk House on the news and thought it might be a good fit," Sesker adds.
The home will go over the river, under the electrical wires and across the tracks, before it lands on its new foundation on Mint 'N More Farms. Billy Bell Housemoving of Colfax will move the house over the next several days.
Judy Gustafson, who now lives in Urbandale, grew up in the historic home until 1952, and tells KRLS News it brings up a lot of emotions as she watches the house move.
"It's been very emotional," she says. "I'm so happy at the same time–I want to laugh and cry at the same time, I'm just happy someone is taking the home and it's going to be preserved."
Gustafson compliments Sesker for her efforts, saying the house has great historic value and is in great condition. She and her two daughters are each taking with them a brick from the original property to remember the house built by Gustafson's grandparents.
Sesker says once the house is at the farm, it will be closed up for the winter, with rebuilding of the roof and porch happening next spring, interior work over the summer, and a potential open house held sometime next autumn.
Central College has used the property for student housing and for storage, but it was no longer needed. With support from the Historic Pella Trust, the college set out to find a new owner and offered $10,000 to prospective owners toward moving costs.
From Historic Pella Trust Executive Director Jennifer Van Kooten:
"The home was constructed in 1914 by Adolphus Waechter, who was a second-generation owner of the Waechter Lumber Company, which was located directly behind the house on the NW corner of Main and University streets. When the home was constructed Broadway was still an unpaved dirt street, and the home featured both a barn/stable for Waechter's horses and a garage to house Waechter's automobile! In 1937, at the age of 80 years, Adolphus passed away in this home. The home remained in the Waechter family for three more decades until it was purchased by Central College professor Richard Whitaker in the late 1960s. In 1989 Whitaker sold the home to Central College. The college named the home "Boardwalk", probably due to its majestic presence as well as its prominent location; and for several years the home served as student housing and later for storage."
Remaining schedule, as per Central College:
Wednesday, Oct. 24
Leave Brown NationaLease and head down Highway T17 to just north of the railroad.
Thursday, Oct. 25
Head from the railroad on Highway T17 to Old Highway 92, Highway 92, Highway 5 and gravel roads starting at Quebec Street. Depending on how fast the trip progresses, the house may spend another night on the road near Smith Grain and Fertilizer. The house may make it as far as its new home on Mint-and-More farm. If not, the journey will be completed Thursday, Oct. 25.