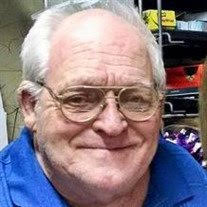 Ernie Morris Brammer Jr., 81, of Ottumwa, Iowa passed away on April 7, 2019 at Good Samaritan Society – Ottumwa. He was born February 20, 1938 in Chariton, Iowa to Ernie M. and Josie Ryun Brammer. He married Beverly Jean Frye on September 14, 1957 in Chariton. Beverly passed away on March 3, 2012.
Ernie worked as a shear operator for Emerson Electric Company in Pella, Iowa for many years. He loved spending time with his family and going camping with them. Ernie was an outdoorsman and enjoyed fishing, bird watching, and deer hunting. He was also an artist, drawing pencil sketches and doing oil paintings.
He is survived by a daughter, Julie (Dennis) Harbour of Bloomfield; two sons, Bill (Brigitt) Brammer of Arlington, Texas, Bruce (Pat) Brammer of Tracy, Iowa; five grandchildren; nine great-grandchildren; and a sister, Cathleen Riley of Springfield, Illinois.
He was preceded in death by his parents; wife; two brothers, Mike Brammer, Edwin Brammer; sister, Judy Heater; and step-father, Hugh Duffield.
Ernie's wish was to be cremated. A private family service will be held at a later date with burial of the cremated remains at the Harbour Cemetery in Davis County. A memorial has been established to Good Samaritan Society – Ottumwa.
Service Saturday April 13 at 1PM at Christ's Church in Ottumwa. Wagler Funeral Home