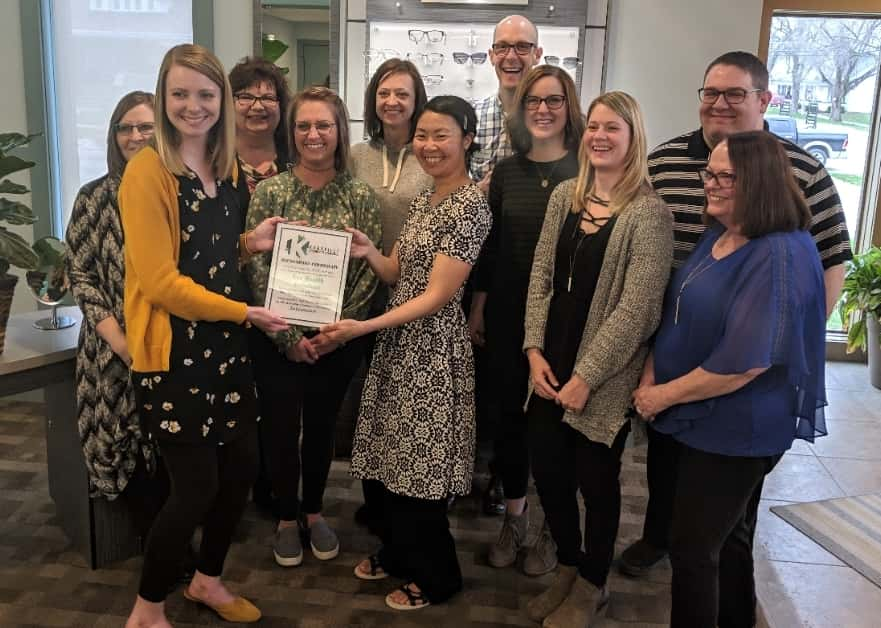 Dr. Jason Maasdam says it's hard to believe that two decades have gone by since his practice has been founded; but the proof is in all the patients he's worked with along the way.
He and his wife Dr. Lily Mark-Maasdam held an open house at Eye Health Solutions on Wednesday night, to mark twenty years in business in Knoxville.
The Knoxville Chamber of Commerce marked the occasion with a certificate honoring them for their years in business.
He tells KNIA/KRLS News while the tools and techniques he uses have changed over the years, the personal touch with patients hasn't.
"I look at the instruments we have now and our ability to look into the eye; we can do that with a level of detail I couldn't even imagine twenty years ago…so the technology and just our ability to see things that we kind of knew were there, but just couldn't see them in a level of detail that we have now. So that's probably been the biggest change," Dr. Maasdam says.
"But still the day-to-day stuff, the important stuff of connecting with the patients and taking good care of them, that will never change. That was the same a hundred years ago, that will be the same a hundred years from now."
Dr. Maasdam says spending twenty years in practice means he's seen a lot of patients grow up over the years; many of whom he has seen go from being young children to driving themselves to their appointments.