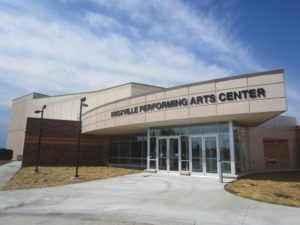 The cast of the Knoxville Area Community Theater's upcoming show may be expecting the audience to have a lot of fun watching…because they've had plenty of fun rehearsing for it.
"Taming the Wild, Wild West in a Dress" will be presented at the Knoxville Performing Arts Center; the play revolves around a theater troupe in the Old West whose leader brings them to a small town because he thinks he's inherited a saloon…but winds up donning a dress, to run what turns out to be a salon.
Jennifer Bingham with the Knoxville Area Community Theater tells KNIA/KRLS News she's been wanting to do this particular show for years; and when they settled on it for this year, the fun began for the cast and crew from the beginning.
"When we had auditions, they were laughing so hard that they said, 'we can't wait to do this show'…we almost weren't able to do it because we couldn't get enough people, but we ended up with the crowd that we needed and everything," Bingham says.
"The comedies is what we go for; everybody loves to laugh, and we want the audience to laugh along with us."
"Taming the Wild, Wild West in a Dress" will run on Friday, April 26th and Saturday, April 27th at 7:00 p.m. with a matinee performance on Sunday, April 28th at 2:00 p.m.
Tickets are $10 each, and are available at the K-PAC box office prior to each performance.