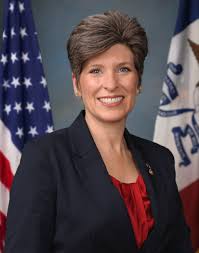 Representatives of Sen. Joni Ernst's office will be spreading out around Iowa during the next few weeks to meet with constituents about any concerns they may have; and this will include  stops in Marion County and Warren County.
Both will occur on Thursday, May 2nd; the Marion County Courthouse will host a visit first on Thursday, May 2nd from 10:00 a.m. to 11:00 a.m. in the Board of Supervisors boardroom.
Then her staff will move on to the Warren County Courthouse Boardroom in Indianola, from 12:00 p.m. to 1:00 p.m.
Sen. Ernst's representatives can deal with issues involving Social Security, veterans' benefits, military affairs, passports, immigration matters and other federal programs.
All 99 counties in Iowa will be visited by Sen. Ernst's staff; the Senator herself will not be present.
Anyone unable to attend these office hours may directly contact her regular offices, or online via her website.