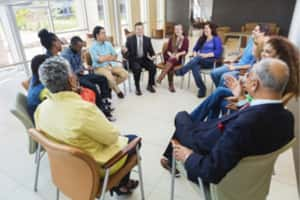 A new Parkinson's disease support group is available in Indianola and Warren County, allowing those living with Parkinson's, their family members, caregivers, and friends to talk about their experiences with the disease. Jenn Chess, who helped to set up the group, tells KNIA News before this group started to meet, the closest support meeting was in Des Moines and too far away to attend for many residents. Chess also said it's important to realize just how much the disease affects not just those who are afflicted.
"As an individual is navigating Parkinson's, there is a lot of loss of function and a loss of independence. And some along the way feel the lose the feeling of being dignified. And so the family member, close friend, or caregiver, has to watch the deterioration, the loss of independence, and the loss of strength level, and it causes a huge change in their life."
The group meets the second Wednesday of every month at the Wesleylife Village in Indianola. For more information on the new support group, tune in to today's Let's Talk Indianola.