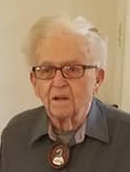 Services for Dale Francis Nicholls, 97, who passed away Sunday, July 7, 2019, at home, will be held 6:30 p.m., Thursday, July 11, 2019, at Overton Funeral Home in Indianola with military graveside services to be held at 9:30 a.m., Friday, July 12 in the Palmyra Cemetery.
Visitation will be held prior to services from 4 to 6:30 p.m., Thursday at Overton Funeral Home. Memorials can be made in Dale's name to American Legion Post # 165 in Indianola or the Warren County Veterans Affairs. To sign an online condolence, visit our website at
www.overtonfunerals.com.