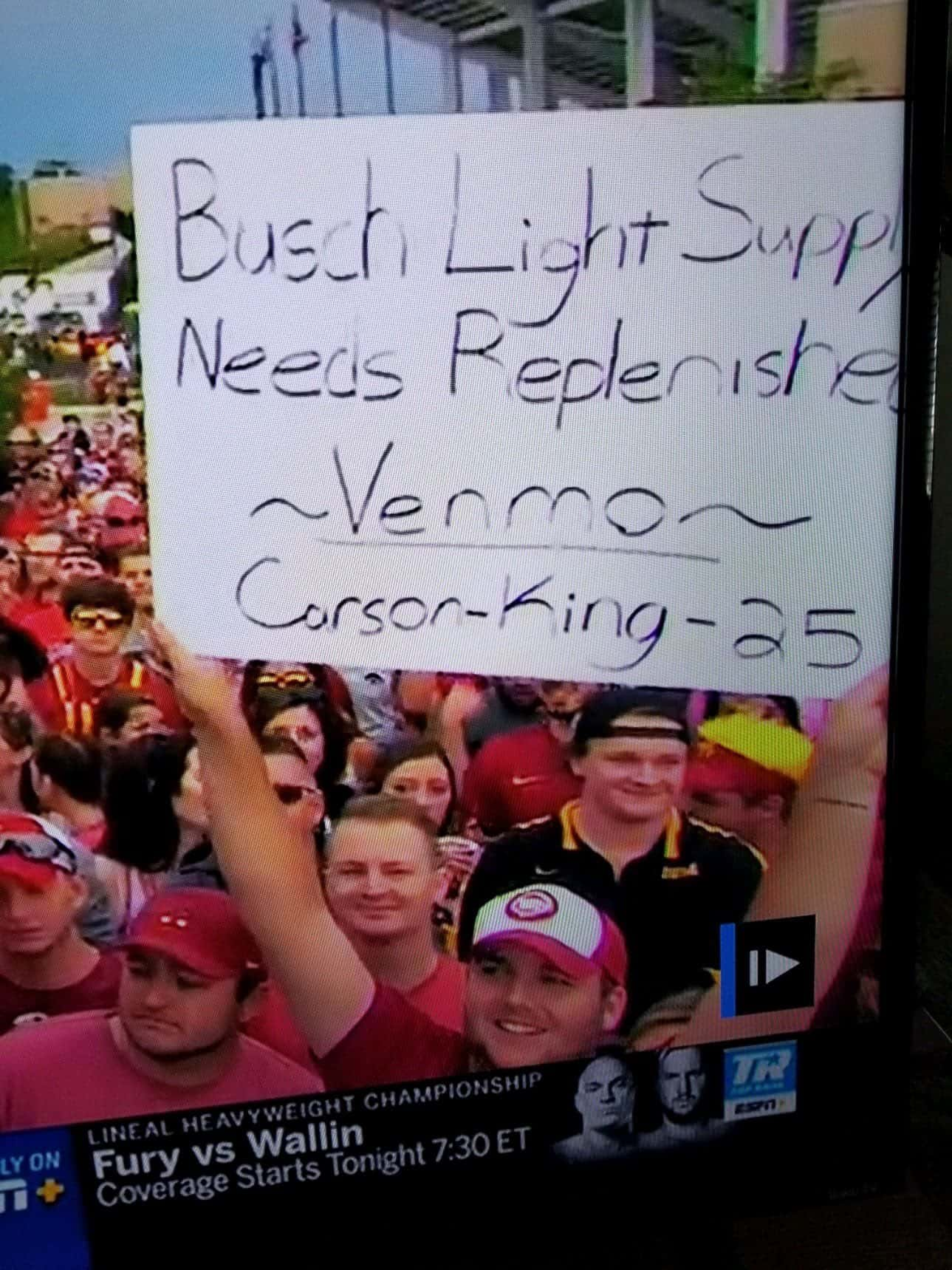 UPDATE: More than $100,000 has come into the Venmo account, meaning at least $300,000 will be donated to the hospital.
—
What started as a joke sign for a national TV audience turned into much more for a PCM graduate attending College Gameday in Ames this past weekend.
Carson King, a 2014 alumnus from the school and a multi-sport athlete for the Mustangs, found his way to the front of the secondary stage when College Gameday came to Ames for the Cy-Hawk football game Saturday. A sign his family made as a joke to get a few dollars for Busch Light turned into an opportunity to do something good, King says, after it was seen on television several times throughout the broadcast. A friend had noticed King was getting several notifications of contributions to his Venmo account. He shortly announced after a lot of money started coming that he was planning to save enough to buy a case of beer, and the rest of the money would go the University of Iowa Stead Family Children's Hospital.
"After about $600, I was like, 'oh, there's a chance I could be doing something a little more special," he says.
The gesture caught fire on media throughout the state, and eventually the country, and the viral post on social media has turned into more than $56,000, which Busch Light and Venmo have pledged match in full to support the children's hospital in Iowa City.
"It's crazy, so I know I tagged Busch in the original post as a joke, and they ended up tweeting back at me at some time and they said 'this is why Carson is the king,' and that was kind of cool, and after awhile people just kept retweeting and retweeting, and it was getting more notoriety and they ended up tweeting at me saying they were going to match everything."
.@CarsonKing2 this is the best thing we have read all year, we're inspired.

We're going to match your donation to University of Iowa Hospitals & Clinics, and we'll throw in some of that Busch Light you were looking for. https://t.co/NPPrPp6zJg

— Busch Beer (@BuschBeer) September 17, 2019
Those who would like to make a donation can do so by sending funds to Carson-King-25 on the Venmo app. King has made headlines across the country, and will be featured on the Scott Van Pelt Sportscenter Show on ESPN this evening.
Carson says he was very involved during his time at PCM High School.
Hear the full interview: