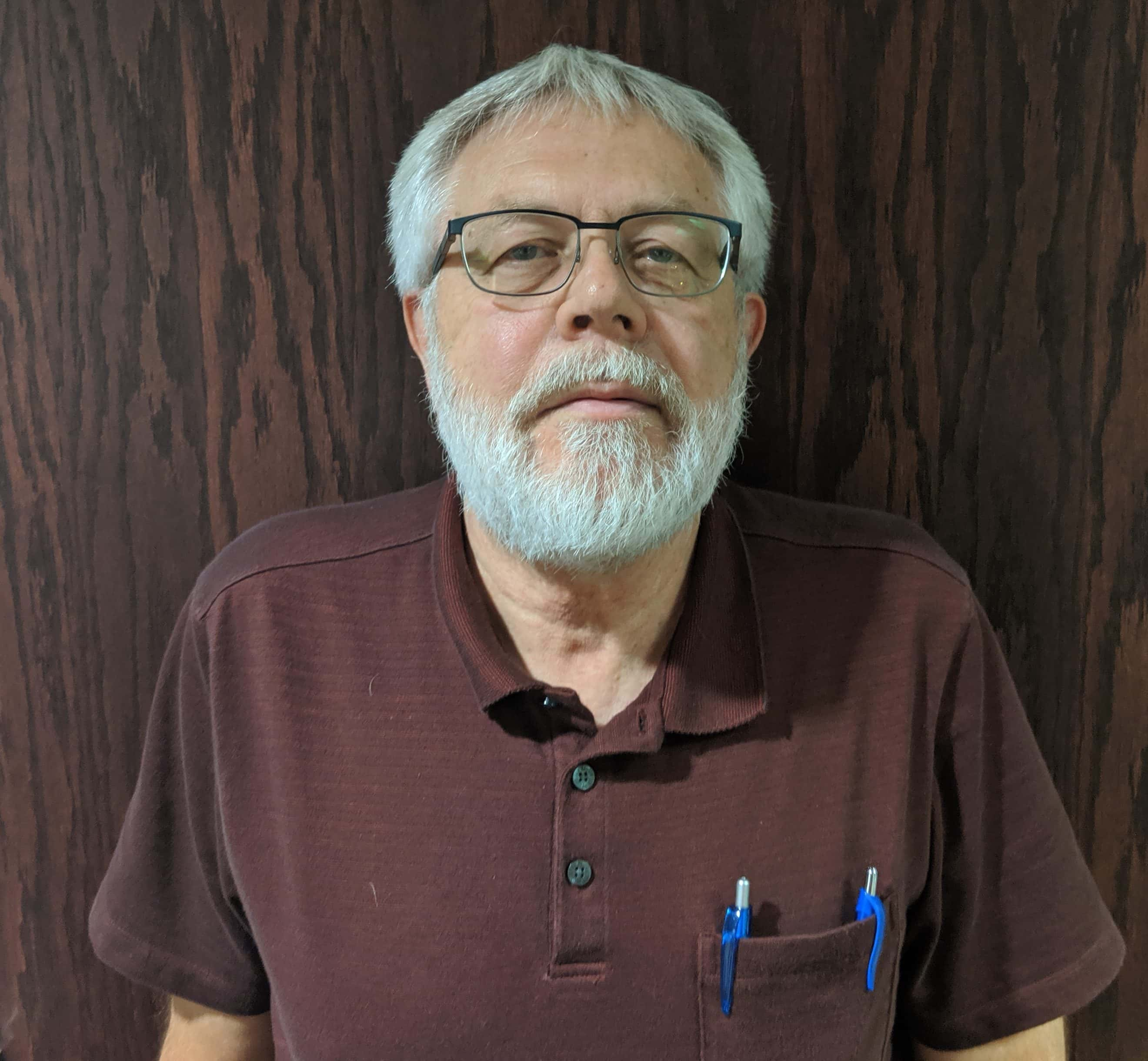 Harold Van Stryland is the incumbent candidate in Ward 2 in the 2019 Pella City Council election. Hear from his opponents Calvin Bandstra, Robin Pfalzgraf, and Nicolle Picray, later this week on 92.1 KRLS.
Full interview with Harold:
Written Responses from the PACE Alliance City Council Candidate Forum:
1. What is the biggest challenge and the biggest opportunity for the City of Pella? What unique experience would you personally bring as a City Councilor to help address the challenge and opportunity that you identified?
"We have so many projects—great projects—presented to us. Unfortunately we can't fund them all. Many residents come with proposals as if they're needed immediately, as if they are an emergency. There are only so many dollars available, and there is also a budget process that needs to be gone through. We need to deal with money in a fiscal year. Therefore, funding all of those quality requests is a huge challenge. Opportunities abound. We are currently working on many areas of growth. The future of Pella is bright and exciting in regard to business growth, the workforce and housing, but so are the challenges. I've definitely learned much in my first two terms. One of our challenges with development is the attempt to offer quality of life without throwing a big tax increase your way."
—
2. Whether earned or unearned, Pella has a reputation for not always being business friendly (e.g., difficult to open or expand a business, restrictive regulations, lengthy approval process, etc.). What role should the City Council play in helping the community overcome that perception? As a City Councilor what is your vision for encouraging our existing businesses and corporations to expand in or attracting new businesses to Pella?
"We have approved many developments in recent years for businesses and residents, which have brought new industries. I think sometimes those statements of regulations have been exaggerated. We have made exceptions for businesses; we have instated a number of PUD's (Planned Unit Developments) in the last few years. We have also made a number of minor modifications where variances could have possibly been brought to court. There is a thin line between being too strict and too loose. In a fairly recent trip to Belice City, Belice in Central America, I saw the extreme example of no zoning guidelines, and we certainly do not want to see our community have a situation where there are no divisions between residential and heavy industrial—between children playing or living near a dusty cement facility. We want new developers and industry, but we do need guidelines and zoning, and let's remember that Pella is a very unique community in many ways. To attract businesses we have offered and continue to offer incentives and TIF's."
—
3. In thinking about your role as a City Councilor, how can the business and corporate community support you in your role on the City Council?
"Our small businesses, large businesses and corporations have done an amazing job of supporting Pella and us as a Council. I've had the opportunity as a Council Member to be a tour guide for a number of visitors, including foreigners (some of them from the Netherlands) who have come to Pella. They are absolutely amazed at the contributions that the local businesses have made—both financial and in-kind support. When I drove by the Pella Sports Park a couple of years ago and mentioned all the corporate and individual support, they found it incredible. I don't want to mention any individuals or any companies because I don't want to exclude any individual or company, but I am certain that support will continue. I very sincerely thank those entities for that support."
—
4. Generally speaking, do you view population growth as a good thing for Pella? As a City Councilor, how would you work to support efforts to grow Pella's population?
"We've been working on a number of housing projects, as we've been informed that Marion County and Pella have crucial housing needs, which would aid growth. However, there is also another question concerning that issue, so I'll move on for now. We do want to grow, but with our rather distinctive Dutch architecture and quite a few similarities to The Netherlands, especially in the CBD (Central Business District), we don't want our city to turn into an Amsterdam or a district like the Repperbahn in Hamburg, Germany. We want to have the offerings of a good-sized town. We do want a thriving retail downtown, and we do want to attract new businesses and support our existing businesses. At the same time we want to maintain our community values. Those values are one reason we stayed in Pella to raise our family. Our staff and City Council on different occasions have offered and will continue to offer incentives to get new businesses to our city and new inhabitants to Pella. We are addressing the housing issue."
—
5. Workforce Availability is the biggest challenge for our business and corporate community should the City Council play in attracting new workers and retaining them once they are here?
"We have added new industries through TIF's and other incentives, and we have to actively continue with those. Lely is a fairly recent corporation that's come to Pella, and they are already expanding. We are blessed to have recent and long-standing large and small corporations and businesses in Pella. Rather interestingly now we have the opposite problem of getting workers. I had an economics professor years ago who said if you have 5% unemployment, you have almost full employment because nearly 5% of the people don't want to work. What does that do to us now with a 3.5% unemployment rate in the U.S. I believe I read it was even lower than that in Iowa this summer. It is tough for employers to get good workers. We need good quality-of-life stuff here in Pella to get them to live here and to work here, and that already leads us to the next question."
—
6. Think specifically about the recruitment and retention of young professionals (e.g. Millennials and GenZ). Research indicates that young professionals are choosing communities they want to live in based on affordability and quality-of-life factors such as recreation, robust restaurant and social or cultural attractions. As a City Councilor, how will you work to support the efforts of the City and the business and corporate community to attract and retain young professionals?
"Pella has done better than many cities our size, but we cannot rest on our laurels. One snoozes and one quickly loses. Having lived in Seattle, Denver and the Ruhr Valley of Germany, I know that it is difficult to compete with the offerings of the big cities. We do not want it to be a challenge to obtain the qualified, skilled young professionals whom we want in Pella. We do not want them to accept a position elsewhere. We've been working on incentives and adding more social gathering places that fit that crowd for singles and young marrieds starting their families. Those individuals also want high-speed internet and reliable technology. Our developing telecommunication utility should be a great new fit for them. Doy Ousley, who has just come on board with our staff has thirty years of experience with fiber network construction. Our goal is to get our municipal telecommunications up and running by 2021. Another big need is low and moderate priced housing, and we continue to address this issue. We have people working in Pella that drive here from other communities. They would live here if we had lower priced housing."
—
7. One issue of importance to young professionals with children is having access to quality and affordable childcare. The Marion County Childcare Needs Analysis released in March 2019 found that 61% of parents in the community had difficulty finding childcare. Given the results of the Analysis, what role would you play as a City Councilor in assisting the City with the need for childcare capacity for the community?
"This is not a challenge unique to Pella. It is a situation we face throughout our state, indeed throughout the entire United States. We are certainly facing it here in Pella. In fact, my daughter, as a single mother, dropped out of the workforce for several years and operated her own daycare for this very reason. Therefore, I am very close to the childcare situation. I run errands for my grandchildren. We need to encourage more of our corporations to offer daycare, as some employers do. It is becoming more common throughout the nation. I wish I had an easy answer for this problem. I certainly thank the grandparents, the family members, some that I know personally that do so much to help out our children. They are our future. We have been communicating with the officials of our schools concerning this topic, and we have also had some closed sessions that have touched on this issue, but I can't share those details at this time."
—
Podcast: Play in new window | Download
Subscribe: Apple Podcasts | Android | Google Podcasts | Subscribe to Let's Talk Pella