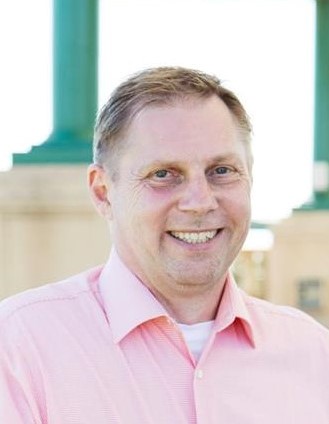 Calvin Bandstra is one of four challengers in Pella's Ward 2, running against incumbent Harold Van Stryland, Robin Pfalzgraf, and Nicolle Picray.
Full interview with Calvin:

Written Responses from the PACE Alliance City Council Candidate Forum:
1. What is the biggest challenge and the biggest opportunity for the City of Pella? What unique experience would you personally bring as a City Councilor to help address the challenge and opportunity that you identified?
"The biggest challenge and the biggest opportunity for the City of Pella are one and the same: Growth! Using assessments as a benchmark, property values in Pella have grown from $689 million to $830 million in the last 10 years, which is an impressive increase of over 20% during that timeframe. This shows that Pella has proven to be a desirable community to live, work, and invest. But with this growth come the challenges, such as "How do we handle the increasing infrastructure needs?" and "Are we able to provide new incentives for housing opportunities?" and "What salary and benefit packages are we able to offer to attract a quality City staff?" Managing the concurrent costs that come with revenue growth can be very challenging. Having been in the world of finance as a State of Iowa bank examiner for 11 years, and as a loan officer at Leighton State Bank and Bank Iowa for 22 years, has given me much opportunity to look at financial solutions for many, many individuals and businesses during both times of growth and times of stress. Additionally, having been Leighton's City Clerk for 19 years has given me a strong background in city finances and governance. My experience during that time included preparing budgets, calculating tax levies, supervising an annexation to the city, and administering grants for both a new sewer system and ballpark complex improvements."
—
2. Whether earned or unearned, Pella has a reputation for not always being business friendly (e.g., difficult to open or expand a business, restrictive regulations, lengthy approval process, etc.). What role should the City Council play in helping the community overcome that perception? As a City Councilor what is your vision for encouraging our existing businesses and corporations to expand in or attracting new businesses to Pella?
"First of all, I think it is important to find out if that reputation is truly earned or unearned. If it is isolated disagreements, that might be just a matter of differences of opinion. But if it is a pattern, which I hear a growing number of those in the business community suggesting, then the City Council needs to look at staff procedures and ordinances in the City Code to improve the landscape for businesses. As a City Councilor, I would encourage an organization like The PACE Alliance to be involved with any proposals, possibly doing a membership survey to uncover the main obstacles that are a hindrance to growth. To attract new investment or encourage existing businesses to expand, showcasing Pella's quality of life features is always a good place to start–the strong school system, the city and nearby recreational opportunities, the vibrant downtown, and the abundance of volunteer opportunities. But with that must also come a promise for the City Council to focus on the "nuts and bolts" issues that are necessary for business growth–adequate infrastructure, sufficient police protection, adequate housing options for workers, etc."
—
3. In thinking about your role as a City Councilor, how can the business and corporate community support you in your role on the City Council?
"As mentioned previously, relying on groups and organizations such as The PACE Alliance to point out specific issues that are roadblocks to businesses, and providing possible solutions, is a great place to start. These give a starting point for discussion at both the City staff and the City Council levels. Additionally, many solutions come with a cost, and those costs can typically only be met by re-prioritizing existing revenue streams or creating additional revenue. Business organizations face this same dilemma every day in the workplace, and therefore are a good resource for feedback on how City officials should allocate its revenue, which is often limited."
—
4. Generally speaking, do you view population growth as a good thing for Pella? As a City Councilor, how would you work to support efforts to grow Pella's population?
"I view population growth as good for the City–if previous City Councils had not been growth advocates, Pella would not be the community that it is today. Pella has historically been a strong destination for retirees, whether coming in from the farm as the next generation takes over, or moving in from a smaller community to be closer to healthcare and day-to-day necessities. It appears that Pella could enjoy more population growth from those younger people still active in the workforce, but affordable housing opportunities remain limited. This is a tough hurdle to overcome, but is one where the City needs to focus."
—
5. Workforce Availability is the biggest challenge for our business and corporate community should the City Council play in attracting new workers and retaining them once they are here?
"The issue of available, affordable housing, especially for those just starting out in the workforce, is probably the biggest challenge in attracting new workers. Some of our neighboring communities, such as Newton, have made that a such a strong priority that they have created housing grant programs and established City positions as a City Planner, a Development Specialist, and a Community Marketing Manager. If we as a City do come to the conclusion that housing is limiting the availability of the workforce, then we have to be prepared to invest in programs similar to those. But, those programs come with a cost, and that is part of the balancing act of making the right choices with the city revenues that are available."
—
6. Think specifically about the recruitment and retention of young professionals (e.g. Millennials and GenZ). Research indicates that young professionals are choosing communities they want to live in based on affordability and quality-of-life factors such as recreation, robust restaurant and social or cultural attractions. As a City Councilor, how will you work to support the efforts of the City and the business and corporate community to attract and retain young professionals?
"The above research mentions two issues–Affordability and Quality-of-Life. Concerning the latter, I think Pella is ahead of many similar-sized communities regarding attractions, events, recreation, shopping opportunities, volunteer choices, etc. The possible exception to this goes back to the first question of whether or not there are any City practices or ordinances that are inhibiting development and growth in those areas. I would certainly be open to reviewing and discussing any of those issues at the Council level. As for the affordability question, that is likely an area where Pella is lacking, and is ironically a reflection of the success of Pella–as more and more people want to move to Pella, that demand drives up prices of a limited supply of housing stock. As other communities are facing this very same problem, one of the first steps would be to ask our City staff to take a look at the successful initiatives of other cities, and then come back to the Council with recommendations and cost estimates of implementing those solutions."
—
7. One issue of importance to young professionals with children is having access to quality and affordable childcare. The Marion County Childcare Needs Analysis released in March 2019 found that 61% of parents in the community had difficulty finding childcare. Given the results of the Analysis, what role would you play as a City Councilor in assisting the City with the need for childcare capacity for the community?
"This is an important area with elusive solutions. Many communities have come up with public-private childcare arrangements, but they often struggle to both find workers and make ends meet. I've worked with staff members of USDA–Rural Development who have been involved with financing arrangements for childcare facilities. Even with attractive government financing, they note the ongoing challenges of keeping these facilities viable. Similar to the affordable housing question, I think a good start would be to look at the best practices of other cities, and then ask our own City staff to analyze possible solutions and bring proposals to the Council. Doing this in conjunction with an organization like The PACE Alliance would allow the business sector to weigh in with their thoughts as well. And again, as an ongoing City subsidy of a venture such as this is a very real possibility, the Council will have to very openly address the cost/benefit question when allocating resources."
Podcast: Play in new window | Download
Subscribe: Apple Podcasts | Android | Google Podcasts | Subscribe to Let's Talk Pella