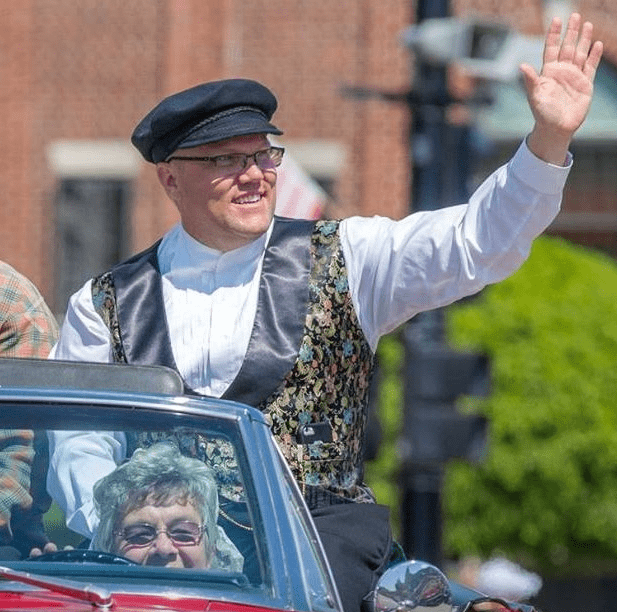 Tony Bokhoven is running as an incumbent at the At Large seat up for election on November 5th against challengers Chris Meyers and Liz Terborg Sporrer.
Full interview with Tony:

Written Responses from the PACE Alliance City Council Candidate Forum:
1. What is the biggest challenge and the biggest opportunity for the City of Pella? What unique experience would you personally bring as a City Councilor to help address the challenge and opportunity that you identified?
"Challenges are a good thing for a community like Pella. It's a sign of strong foundation, opportunity and a progressive nature. Unlike many communities, our challenge isn't not having a strong financial position, our challenge is how we leverage our fiscal strength to help Pella develop and grow, and how we continue to provide the services that deliver the quality of life Pella residents have come to expect. I have served as Vice President and then President of what was then known as the Pella Chamber of Commerce, Served as Executive Board of Director for the National Sprint Car Hall of Fame (a 501c3). In addition, successfully managed and balanced the responsibility of departmental budgets for 2 of our Corporations and successfully completing the end of my second term on the Pella City Council. With this type of experience, I bring a vast amount of experience and perspective in many different areas of business. This experience will be valuable in the continued prosperity of the City if Pella."
—
2. Whether earned or unearned, Pella has a reputation for not always being business friendly (e.g., difficult to open or expand a business, restrictive regulations, lengthy approval process, etc.). What role should the City Council play in helping the community overcome that perception? As a City Councilor what is your vision for encouraging our existing businesses and corporations to expand in or attracting new businesses to Pella?
"This question is a bit puzzling to me. During this campaign I have had specific conversations with businesses both big and small, one that has been a fixture in our community for over 60 years. The majority of those I spoke with feel that while there is due process, it is value added and is why we have business that have built great reputations and have longevity in our community. Communication is the key to successful development. When communication is open and initiated early, most of the proprietors I spoke too applaud the City for having a defined process. The Mayor and Council in partnership with City staff, developers and business owners, need to continue to build on the strengths of our community. We all need to promote the offerings and value doing business in Pella can provide to an entrepreneur. We also need to leverage the Pace Alliance to aggressively attract new types of business to Pella. By attracting new types of business, the Council and Mayor can then work along side of the potential business and Pace, to understand what unique issues exist and how we can adapt to welcome them to Pella."
—
3. Generally speaking, do you view population growth as a good thing for Pella? As a City Councilor, how would you work to support efforts to grow Pella's population?
"I think the answer to a question like this is obvious. We are always discussing infrastructure and other needs to support our growing community. Population growth is key to provide employees for industry, and tax base to support quality of life initiatives."
—
4. Workforce Availability is the biggest challenge for our business and corporate community should the City Council play in attracting new workers and retaining them once they are here?
"Like we are currently doing, the Mayor and Council need to continue to work with developers to provide a variety of housing options for both the young and old, that want to make Pella home. In addition, working with investors and developers will remain key in attracting new ancillary business like restaurants, natural food source options, unique shopping experience and tasteful entertainment options."
—
5. Think specifically about the recruitment and retention of young professionals (e.g. Millennials and GenZ). Research indicates that young professionals are choosing communities they want to live in based on affordability and quality-of-life factors such as recreation, robust restaurant and social or cultural attractions. As a City Councilor, how will you work to support the efforts of the City and the business and corporate community to attract and retain young professionals?
"As identified above."
—
6. One issue of importance to young professionals with children is having access to quality and affordable childcare. The Marion County Childcare Needs Analysis released in March 2019 found that 61% of parents in the community had difficulty finding childcare. Given the results of the Analysis, what role would you play as a City Councilor in assisting the City with the need for childcare capacity for the community?
"As well defined in the Des Moines register, there have been great success stories by major employers in the state, notably, Principle, Frontier Co-op & Vermeer Corp. that have developed and instituted high quality, STEM based child care options. We need to continue to encourage this mindset for employers and private industry by provide zoning and code flexibility to allow them to successfully develop the needed child care options. Through the Iowa Woman's Foundation and the Building Community Child Care Solutions Collaborative, there are grant fund opportunities that need to be exhausted. In communities with aggressive Chamber of Commerce organizations like Iowa City, are hosting Child Care Solution Summits to come up with ways to bring together private industry and Corp employers to address these types of issues. We need to promote the same type of initiatives."
Podcast: Play in new window | Download
Subscribe: Apple Podcasts | Android | Google Podcasts | Subscribe to Let's Talk Pella