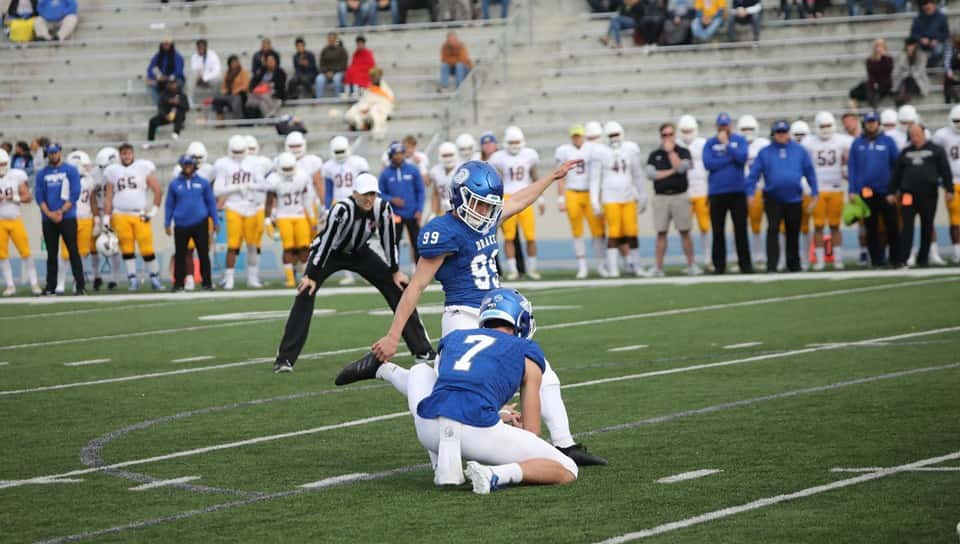 Photo of Nathan De Bruin by Drake Athletics
For many of the former Tulip City athletes who hit the soccer pitch, collegiate success has found them regardless of the sport they pursued after high school.
Former Pella Christian All-State Kicker and Soccer Starter Nathan DeBruin is the kicker of choice for the Drake Bulldogs, knocking in 2-of-4 field tries and 21 point after attempts. Fellow teammate and former Pella football and soccer standout Will Warner has captured some of the magic of his All-American season last fall, racking up four interceptions in a recent three-game stretch for Drake.
A starter for the Pella Soccer team in his senior season and the kicker for the Pella football program, Chase Carter is booting in point-after-tries for No. 1 in NAIA Morningside, hitting 46 of 48 tries this season.
Iowa's Reigning High School Soccer Player of the Year is gaining traction in moving to the college-level pitch, as Pella alumna Grace Held scored the winning goal against Winona State this past weekend, her third goal of the season for the University of Sioux Falls. Her former teammate Erica Bossard has racked up 936 minutes in 18 starts for the Monmouth Fighting Scots, who has 13-4-1 record are making an appearance in the Midwest Conference Tournament this weekend.