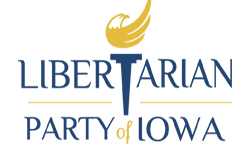 The Libertarian Party of Iowa has announced it will host caucuses in twenty-two counties throughout Iowa and a virtual caucus for those in rural counties or unable to attend in-person.
Marion County residents are invited to attend the Libertarian Caucus and Convention at the Knoxville Public Library located at 213 E Montgomery Street on Saturday, February 8th at 1 p.m. The Warren County Libertarian Caucus will also be held at 1 p.m. on February 8th and will be held at the Thrive Church Student Center located at 707 East Euclid in Indianola.
During the event the Libertarian party will be organizing the first officially recognized county party membership and vote for county officers to include Chair, co-chair, treasurer and secretary. Mike Conner Jr. with the Marion County Libertarian Party tells KNIA/KRLS News people should attend the event to learn more about what the Libertarian party has to offer. Conner Jr. says the event is a great chance for people to be educated about the Libertarian party. He says the Libertarian party is the largest growing party in the United States and in Iowa. 
Only Iowans who are listed as Libertarians on their voter registration can participate, and all are invited to participate and help build the party. Virtual caucus goers will have to register Libertarian by February 1st, 2020 to be able to participate. Attendees at county sites will also be able to register on site if they are not present on voter rolls as a registered Libertarian.
A Virtual Caucus Link will be available from February 6th at 12:01 a.m. until February 8th at 5:00 p.m. for those unable to attend or residing in a county without a site. Additionally, Iowa Libertarians will have an opportunity to signal their presidential preference via the party's Presidential Straw Poll.