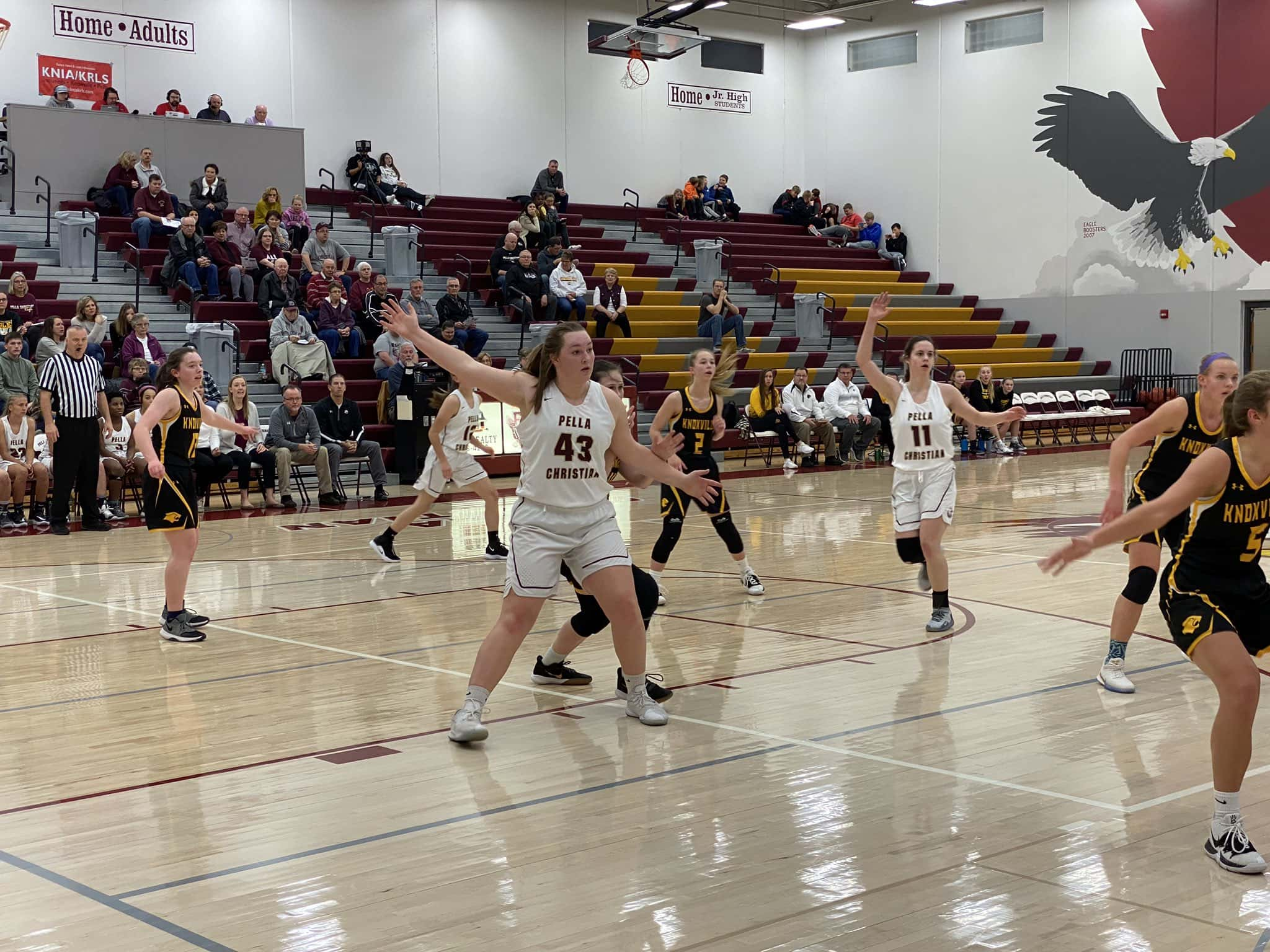 The two teams traded baskets, and neither led by more than six points until late in overtime on Monday night when Knoxville's girls' basketball team defeated Pella Christian by a final score of 72 – 64, in a doubleheader heard live on 92.1 KRLS and FM 95.3 KNIA. The Eagles used their height advantage inside with the 6'1" presence of Allison Van Gorp scoring 12 of her team-high 24 points in the first period. Both teams had a chance to win in the closing seconds of regulation, but Pella Christian committed an offensive foul and the Panthers couldn't connect on a set play, which forced the game into OT. Knoxville's Maggie Wilkins took control in the extra four minutes, scoring six points and hitting clutch free throws to help guide her Panthers to a win.
Both Wilkins and Katie Keitges dropped in 33 points for the Panthers, while the Eagles were helped along the way with 18 points from Chloe Morgan, and 21 rebounds from Van Gorp. Pella Christian remains winless on the season, while Knoxville improves to 10 – 1.
On the boys' side, it was all Pella Christian, as they raced out to a 21 – 6 start before coasting to an 86 – 66 win over the Panthers. Good ball movement and well-balanced scoring from the Eagles' line-up helped lead them to the victory. Five players finished in double figures for PC, led by 15 from Keean Cadwell and 14 from Isaiah Gritters. Kieren Nichols had the hot hand for Knoxville, dumping in 31 points of his own. The loss snaps an eight-game winning streak for Knoxville as they fall to 8 – 2, and Pella Christian improves to 6 – 2. The Panthers will next play Clarke later this week, while the Eagles return to the court later today to face Newton on the road. Hear the Eagles live tonight on KRLS2 at KNIAKRLS.com with Trevor Castle and Jerry Nikkel.