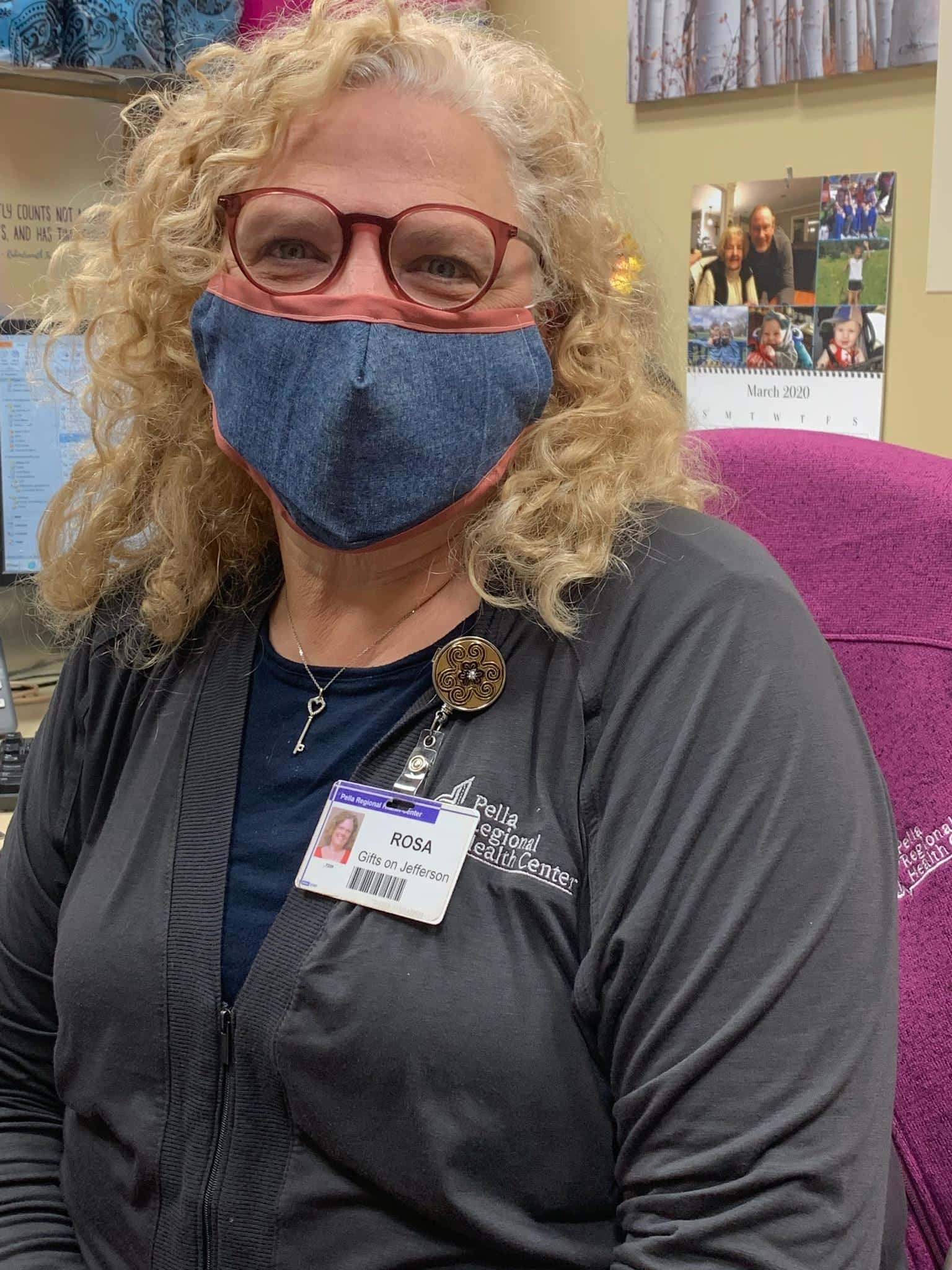 Pella Regional Health Center is accepting donations of hand-made masks during the COVID-19 pandemic, with some masks already making their way to medical staff.
The Pella Regional Healthcare Administration Team is asking for as many sewn face masks as they can get. At this time, Volunteer Coordinator Rosa Veenstra has received around 225 and the anticipated need is 1,500. Veenstra is asking anyone to drop them off to the booths at the street entrance as soon as possible.
She says fabric masks need to be made to certain standards to ensure they are properly protecting health care professionals, especially as they prepare to fight the novel coronavirus. Any mask donations must be coordinated with Veenstra at Pella Regional, and must be prewashed and enclosed in plastic bags or boxes.
Contact foundation@pellahealth.org with any questions or details.
In order to make sure the masks are as safe and as effective as possible, Pella Regional asks that you consider the following points:
Please use the following pattern to ensure proper fit and function. They offer a filter pouch in which a disposable filter can be placed to increase their effectiveness.
Properfit Clothing Co® PM 2.5 face mask. This company has a paper pattern that is available for download (https://www.properfitclothing.com/product-page/flu-mask-pattern-download) for $2.99. You can then print the pattern on your home printer. The company has a Youtube video and Facebook page that have a link to the download and an instruction how-to-video. Search "How to make a PM 2.5 face mask" by Properfit Clothing Co®. (https://www.youtube.com/watch?v=N8WSpnVSsRg)
– Recommended fabric for the outer portion of the mask includes heavier, non-stretch fabric such as denim, duck cloth, canvas, twill, or other tight woven fabric.
– Recommended fabric for the inner lining and filter pocket can be other cotton, cotton-blend, non-stretch fabric. It can be thinner and softer, but again recommended minimal or non-stretch.
– Polyester or other less breathable fabric will not work as well, due to moisture produced with breathing.
– If using denim or other fabric that is being "recycled" please be sure it is clean and in good shape. Worn or dirty fabric will not be protective.
– PLEASE prewash all fabrics and dry at high temps as they will have to hold up to that for the future. This also prevents these masks from shrinking when they are washed.
– Elastic should be in good shape, with plenty of stretch and of an appropriate size to fit over the ears. 1/16 in round cord or 1/8 inch braided work best.
– If elastic is not available, fabric ties can be sewn on the mask. There will need to be 4 ties (one tie on each of the 4 corners). Ties should be approx. 1/4 inch in width, sewn in such a way that there are not frayed edges, and long enough to be tied into a bow on the top of the head (for the top corner and behind the head for the bottom corner).
– The 3.5X4 inch plastic coated bendy strips across the top of the mask are important to allow the user to bend the metal to create a close fit over the nose. Two 4 inch plastic coated twist ties work well. Paper twist ties do not hold up to washing.
Extra wide double bias tape can be purchased. It is also easy to make if you prefer, or if supplies are limited. There are instructions and videos online on how to make the bias tape.
Pella Regional Health Center will supply the filters for the masks.
Completed Masks
Enclose completed masks in a closed plastic bag or closed plastic box.