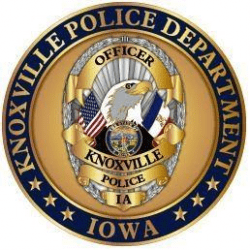 Last week the Knoxville Police Department was celebrating the retirement of longtime Chief Dan Losada. Now the department is celebrating the promotion of one of their most seasoned officers as it was announced Thursday that Lieutenant Aaron Fuller will be named as the next Knoxville Police Chief. Fuller tells KNIA/KRLS News there wasn't a lot going through his mind when he found out that he was going to be named the new chief, he says he was just excited to be chosen and have the opportunity and be trusted with moving the Knoxville Police Department forward. 
Fuller says as far as taking over the job, the department has already been set up for success by former Chief Losada and he says right now it's just about continuing that success, finding the areas in which the department can improve and making those needed improvements. Fuller says he is lucky to be taking over a department with such well rounded and well trained officers. 
Lieutenant Fuller's promotion to chief will take effect following the Knoxville City Council's expected approval during the council's next meeting on June 1st.