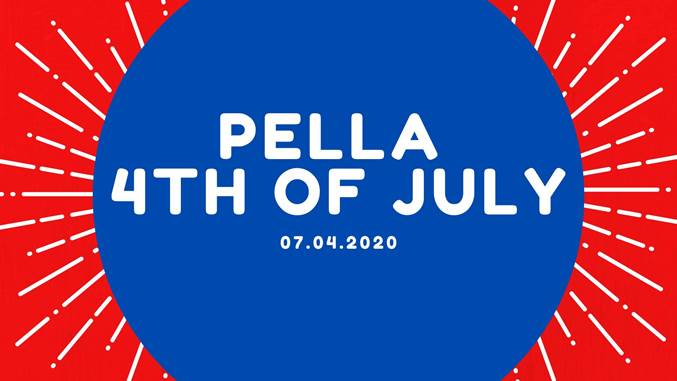 The Pella 4th of July Committee has finalized the 2020 celebration schedule. The only event they are awaiting confirmation on is if open swimming at the Pella Aquatic Center will happen.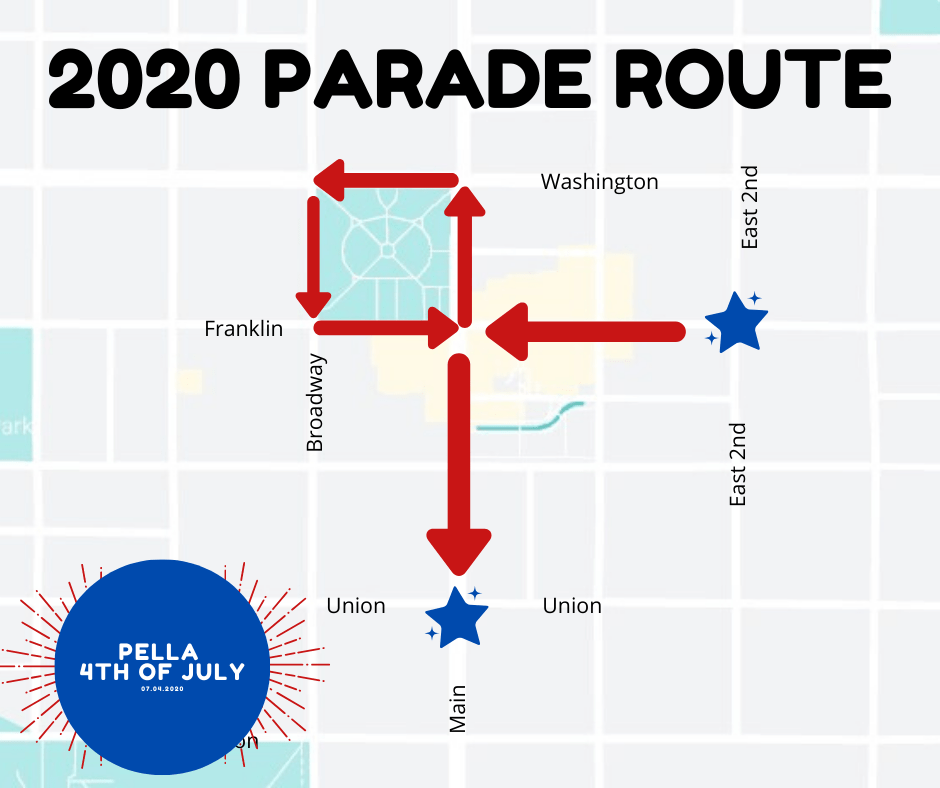 Parade Route: Reverse Tulip Time Route (Pictured Above)
Parade participants should line up at Trinity Church.
Starts on corner of East Second Street & Franklin
Head West on Franklin
Turn North on Main
West on Washington
South on Broadway
East on Franklin
South on Main
Ends at Union
If anyone would like to be in the parade they should contact Paul Kingma, 641-780-6785.
Schedule for the Day:
9:00 am – 5K Ruck Run (Start at memorial building)
3:00pm – Food Vendors Open (they will remain open until the Jazz band performance or as soon as they run out of food)
3:00pm-5:00pm – Fishing at Caldwell Park (Poles and bait provided)
3:00 pm – American Legion on the Tulip Toren
3:30 pm – Triumph Martial Arts on Tulip Toren
4:00pm-5:00pm The Dans Company on Tulip Toren
4:30-5:30 – Art in the Park craft bag available in the square (by the cannon)
5:00pm – Tulip Queen Coronation & Court Presentation
5:30 pm – Tulip Queen & Court Program
6:00pm – Parade
8:00 pm – Pella High School Jazz Band on Tulip Toren
10 pm / Dark – Fireworks from Madison Elementary
Food Vendors:
– Rob's Mini Donuts
– Zimms Kettle Korn
– Over the Top Ice Cream
– Just a Few Farm Girls
– The Barnyard Tenderloin Xpress
– Child Evangelism Fellowship
– Oriental Express
– Tacos Jalisco
Important Notes for Attending the Event:
– Bring your own chair. Public seating will not be provided for the entertainment, the parade or near the food vendors
– Consider wearing a mask if that feels appropriate for you
– Respect social distancing. Maintain 6 feet from others who are not in your group and when sitting on the parade route.
– No parking on the parade route past 2pm.
– Candy will be allowed during the parade, but please keep your children back from the parade route. Walkers will bring the candy to you. We encourage you to bring a bag that the walkers can put the candy directly in to limit contact.
– Public bathrooms are available at the police station, the memorial building and city hall.
– Bring your own hand sanitizer.
– If you do not feel safe attending this event, please stay home. There will be live videos throughout the afternoon on the Pella 4th of July Celebration Facebook page.
– Updates or changes to the event will be posted on their Facebook page.