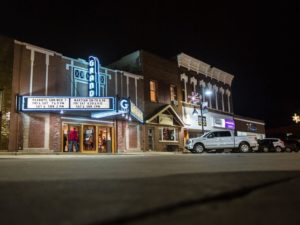 After over three months of being closed, the Grand Theater will open its doors to the public today. The theater which has been shut down for more than three months due to the COVID-19 pandemic as well as facility improvements and maintenance projects, has implemented new policies and procedures to safely welcome back patrons.
Policies and procedures all movie goers must follow include social distancing while in line for tickets and concessions; one-way traffic into and out of both auditoriums; every other row of seats blocked off and at least three empty seats to the left and right of each individual/party. The theater has also implemented single use restrooms; multiple hand sanitizing stations, face masks on staff and volunteers; and more frequent cleaning and disinfecting.  
New movie titles won't be available until at least mid-July; the theater will be showing some older films as well as films that came out within the past year. For the time being they will be open just four days each week (Wednesday, Friday, Saturday and Sunday).  Also, there will be  matinees but no late shows on weekends.