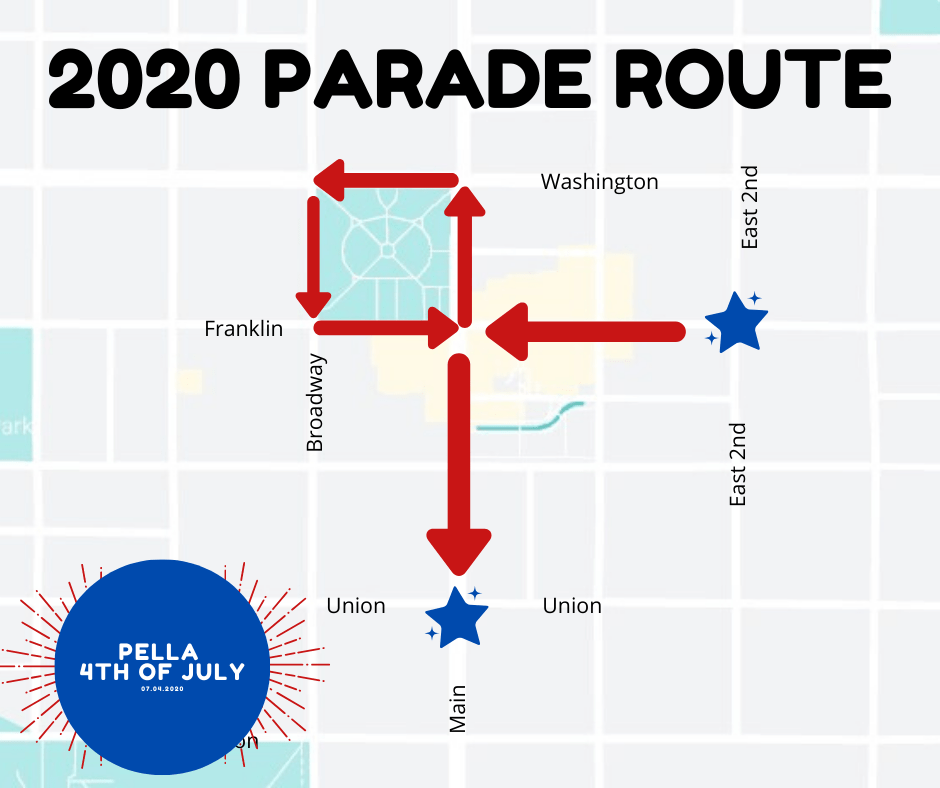 The City of Pella is set to celebrate the 4th of July on Independence Day.
Pella 4th of July Committee Chair Paul Kingma says a wide range of activities and entertainment will be held throughout the day on Saturday, July 4th, including the annual parade at 6 p.m.
The KNIA/KRLS Lil' Big Red Radio will be participating in the parade and will provide extensive news coverage of the events occurring throughout the community.
Parade Route: Reverse Tulip Time Route (Pictured Above)
Parade participants should line up at Trinity Church.
Starts on corner of East Second Street & Franklin
Head West on Franklin
Turn North on Main
West on Washington
South on Broadway
East on Franklin
South on Main
Ends at Union
If anyone would like to be in the parade they should contact Paul Kingma, 641-780-6785.
Schedule for the Day:
9:00 am – 5K Ruck Run (Start at memorial building)
1-4pm Swimming at Pella Aquatic Center
3-6 pm Plume Hill Horse and Carriage Rides starting at informational windmill
3:00pm – Food Vendors Open (they will remain open until the Jazz band performance or as soon as they run out of food)
3:00pm-5:00pm – Fishing at Caldwell Park (Poles and bait provided)
3:00 pm – American Legion on the Tulip Toren
3:30 pm – Triumph Martial Arts on Tulip Toren
4:00pm-5:00pm The Dans Company on Tulip Toren
4:30-5:30 – Art in the Park craft bag available in the square (by the cannon)
5:00pm – Tulip Queen Coronation & Court Presentation
5:30 pm – Tulip Queen & Court Program
6:00pm – Parade
8:00 pm – Pella High School Jazz Band on Tulip Toren
10 pm / Dark – Fireworks from Madison Elementary