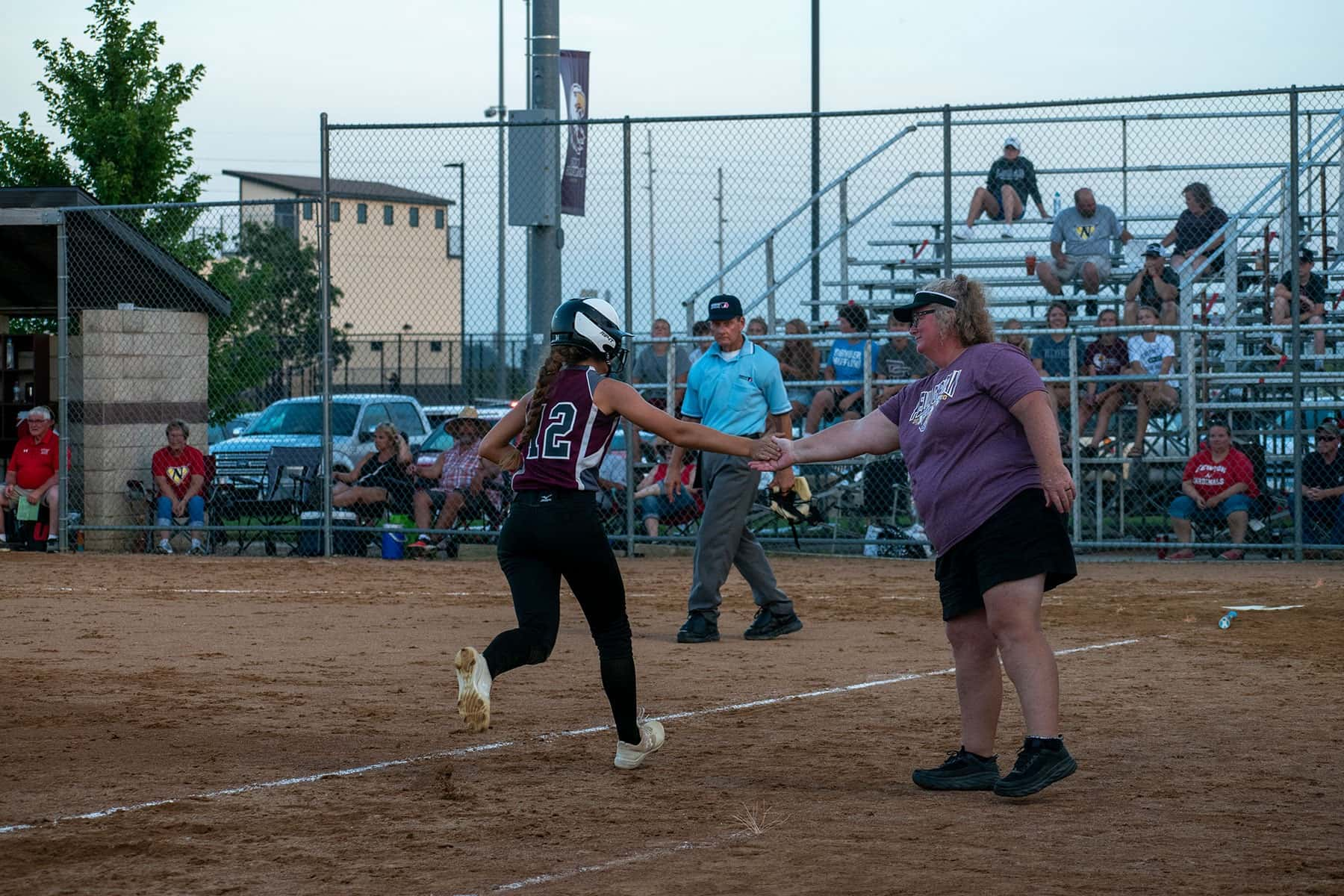 Natalie Harrill celebrates with Head Coach Karen and mom following a 3-run HR vs. Newton on June 30th, 2020. Photo by Lisa K. Morgan
It was a fun night for Pella Christian fans at Eagle Lane as both the baseball and softball teams found victory Monday night to start a lengthy home stand Monday. The Eagles softball girls won 11-5, while the baseball team won 10-0 in a five-inning varsity contest over the Cardinals heard live on 92.1 KRLS.
P.C. scored early and often in both games — and on the baseball diamond, it was pitcher Devin Haveman who smashed a two-run home run in the first inning to start a scoring spree in five innings that featured seven Eagles finding hits. Haveman finished with five sparkling innings on the mound as well, giving up just two hits and striking out five Cardinals.
The Eagles softball team found similar success in a game that was never really in doubt despite an early inning rally from Newton. Pella Christian got the early 3-0 jump but gave up two runs in the top of the 2nd. But the Eagles scored the next eight runs, effectively ending the game until some errors allowed the Cardinals to tack on three late runs.Natalie Harrill finished 3-for-5 with a home run and five RBI and Emri Agre went 4-for-5 with three runs and 2 RBI.
The Eagles softball team improves to 4-6 overall, while the baseball squad improves to 3-7. Pella Christian is off until Wednesday, when they host Oskaloosa for a varsity doubleheader, with senior recognition taking place at both. Hear the baseball game live on 92.1 KRLS, and tune into the Radio Sports Page Wednesday to hear from the Eagles baseball and softball seniors.