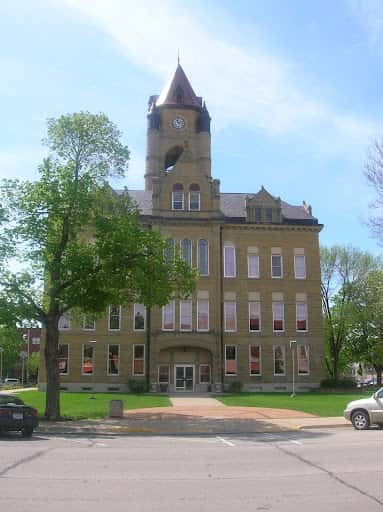 In an update to our previous story on the Tuesday Board of Supervisors meeting, contract details related to the lobbyist position have been released. Kelly Verwers Meyers is under contract from October 2020 through September 2021, and will be paid $30,000 for lobbying services. The state legislative session typically runs from January through March.
Click below to view the contract.
Agreement-for-Lobbying-Services_10.1.2020-09.30.2021_Skinner-Paschke
Here is our original story:
The Marion County Board of Supervisors met in regular session Tuesday. The board approved the hiring of Kelly Verwers Meyers as lobbyist on behalf of the Supervisors regarding governmental matters. Board Chair Mark Raymie said the appointment is necessary because he feels Marion County needs better representation with the legislature.
"From my perspective, the issues facing our county, particularly the state mandates, I am not convinced that we are being well-served through the consolidated voices that we currently use. It's not that they do a terrible job, but I think there are things here in Marion County we would like people to be more proactive on. We would like people to have more of what are our specific county interests in mind, instead of all the counties that ISAC (Iowa State Association of Counties) represents. I think there are things we as a board think are best for our citizens for tax reform and tax reduction at the state level and those things we need more consistent help with the state house."
Marion County Engineer Tyler Christian expressed the hope that the supervisors interests align with the legislative priorities of the Iowa County Engineers Association. Marion County Attorney Ed Bull and Sheriff Jason Sandholdt expressed their concerns that the supervisors lobbying efforts could possibly be at odds with interests of their offices and those being advanced by their professional lobbying organizations.
Verwers Meyers has deep roots in Marion County. She is the daughter of former Sheriff Gary Verwers and former Knoxville City Council member April Verwers, and is the sister of current Marion County Supervisor Kisha Jahner. She graduated from Simpson College, and Drake Law School, has experience as a law clerk, Assistant Warren County Attorney, and was an independent legal counsel in Indianola. She is currently employed by the Skinner & Paschke Law Firm in Waukee.
The Supervisors approved the contract, with Kisha Jahner abstaining. No discussion was held regarding the process of recruitment, or the cost of the contract.
A search of registered lobbyists with the Iowa Legislature shows that the Board of Supervisors of three other counties have lobbyists–Polk, Linn, and Pottawattamie.
In other business, the supervisors approved a resolution to remove yield signs at railroad crossings that have both yield and stop signs. They approved a site plan review at 1052 218th Ave. in Pella for an indoor archery range. The supervisors approved a change order on the Marion County Courthouse elevator project, and appointed Emily Feagins with Marion County Emergency Management as Public Information Officer for the board.
The Marion County Board of Supervisors will next meet on Tuesday, August 11th at 9:00 a.m.
To listen to the meeting, click below.
By Robert Leonard and Jon Mohwinkle