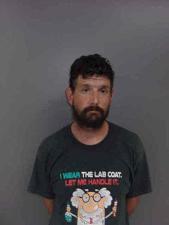 A car chase through three counties Monday has led to numerous charges for a Newton man. At 3:42 p.m., Marion County Sheriff's deputies spotted an Audi AA6, driven by 37-year-old Thomas Edward Eilander, in the 400 block of State Highway 14 south of Monroe. This was after Jasper County deputies stopped their pursuit of the vehicle north of Monroe. As deputies initiated their lights and sirens, the vehicle attempted to flee.
The chase ensued south, with speeds exceeding 25 miles per hour over the posted limit. The chase continued through Knoxville and into Lucas County. The vehicle turned west onto U.S. Highway 34 in Chariton, and eventually came to a stop at the intersection of U.S. Highways 34 and 65 in Lucas. In total, the chase went for at least 52 miles.
A search of the vehicle turned up multiple smoking devices with marijuana and methamphetamine residue. A clear plastic bag with residue which field tested positive for methamphetamine, as well as a prescription bottle of Gabapentin was also located inside the vehicle.
Eilander was arrested and taken to the Marion County Jail. Eilander faces numerous traffic charges, as well as a drug charge. A preliminary hearing is set for September 24th.