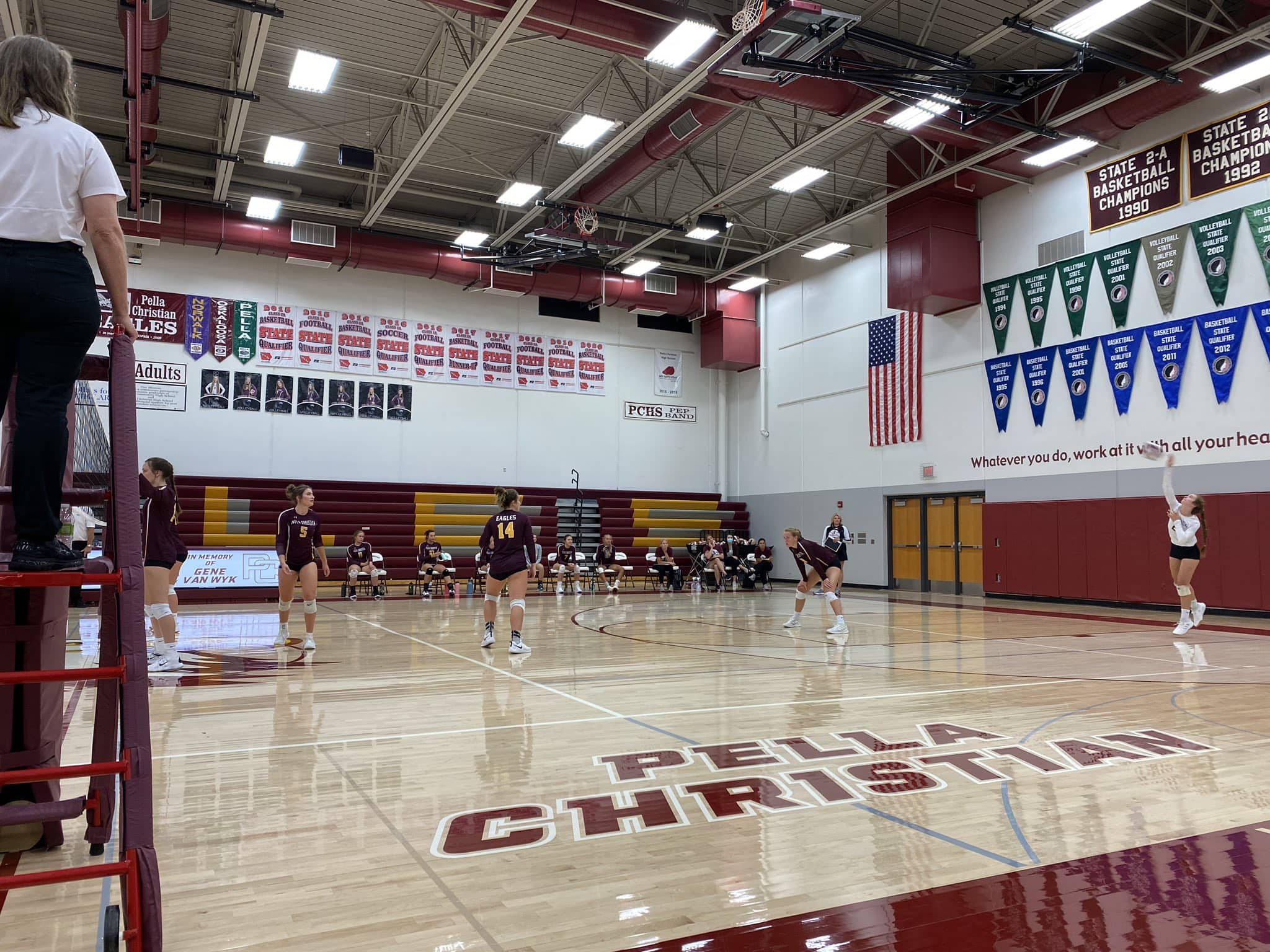 Pella Christian Escapes with Five Set Win Over Grinnell
It was far from perfect but the Eagles survived five sets at home against Grinnell for their first conference win Tuesday (20-25, 25-11, 25-18, 23-25, 15-9).
Pella Christian dominated sets two and three, but struggled with consistency in several phases of the match, according to Head Coach Joanna Settles.
The Eagles were led by 14 kills from Sarah Gritters, 13 from Avey Amelse, and six from Trinity Vos. Pella Chrisitan evens their season record to 5-5 and are 1-2 in Little Hawkeye Conference competition, and will take on four teams Thursday in the Des Moines Christian tournament.
—
Pella Christian Cross Country Competes in Oskaloosa
After an extended layoff due to last week's weather, the Pella Christian Cross Country teams were back in action Tuesday at the Oskaloosa Invitational.
The Eagles boys placed 8th in a race won by No. 4 in 2A Williamsburg, and including No. 11 in 2A Albia, and several 3A schools. Brayton Juffer paced the Eagles with a 16th place finish (19:24.5), closely followed by Kaden Van Wyngarden (19:29.4) in 18th, and Ryan Natelborg took 27th (19:59).
Pella Christian's girls took 7th out of eight schools with No. 2 in 2A Williamsburg dominating that race and the same mix of large schools. Ranked 30th among 2A girls, freshman Jaclyn Holmes was 6th (22:30) among individuals, with Savannah Oosterheert placing 26th (25:58.5).
Find full results from the Oskaloosa Cross Country meet at Edmundson Park at KNIAKRLS.com. The Eagles boys and girls are on to the Diamond Trail Golf Course for the Lynnville-Sully meet on Thursday.
Boys results: http://onlineraceresults.com/race/view_plain_text.php?race_id=72085
Girls results: http://onlineraceresults.com/race/view_plain_text.php?race_id=72084