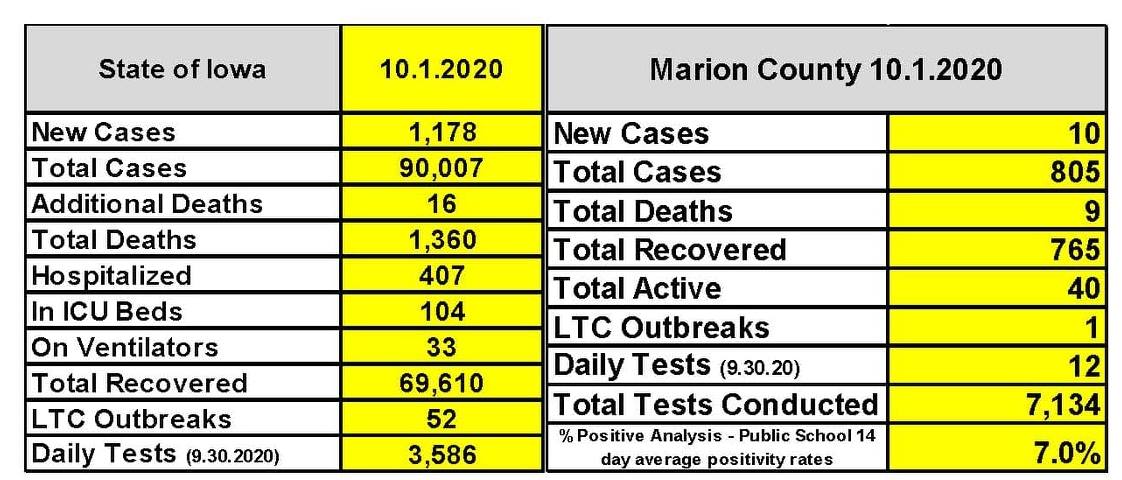 Ten new positive tests of COVID-19 were confirmed to Marion County Public Health Thursday. There are 40 active cases and 765 recoveries. Nine fatalities are attributed to the virus in the county, all of which were confirmed in September.
On the Pella Community School District COVID-19 absence tracker, there was a spike in reported student absences due to the virus. As of Thursday, seven students are missing school due to a positive COVID-19 test and showing symptoms — five of which were newly reported.
Superintendent Greg Ebeling says overall absences of students and staff remain low overall, and well below the 10% absence threshold that would move them to virtual learning.
Last week, Pella Activities Director Matt Fouch announced that masks would be required at the gate for all remaining home activities — which includes the upcoming Pella volleyball home tournament, their final home game against Pella Christian, and the upcoming state qualifying cross country meet.
The PCM School District, based on new guidance regarding quarantines from the Governor's office, will now be mandating face masks to be worn by all students, staff and guests on all school facilities. This includes all school-age children to adults. Face masks will also be required on school buses.
Students who are participating in the school-sponsored activities will not be required to wear a face mask during active participation as long as other mitigation strategies are employed.