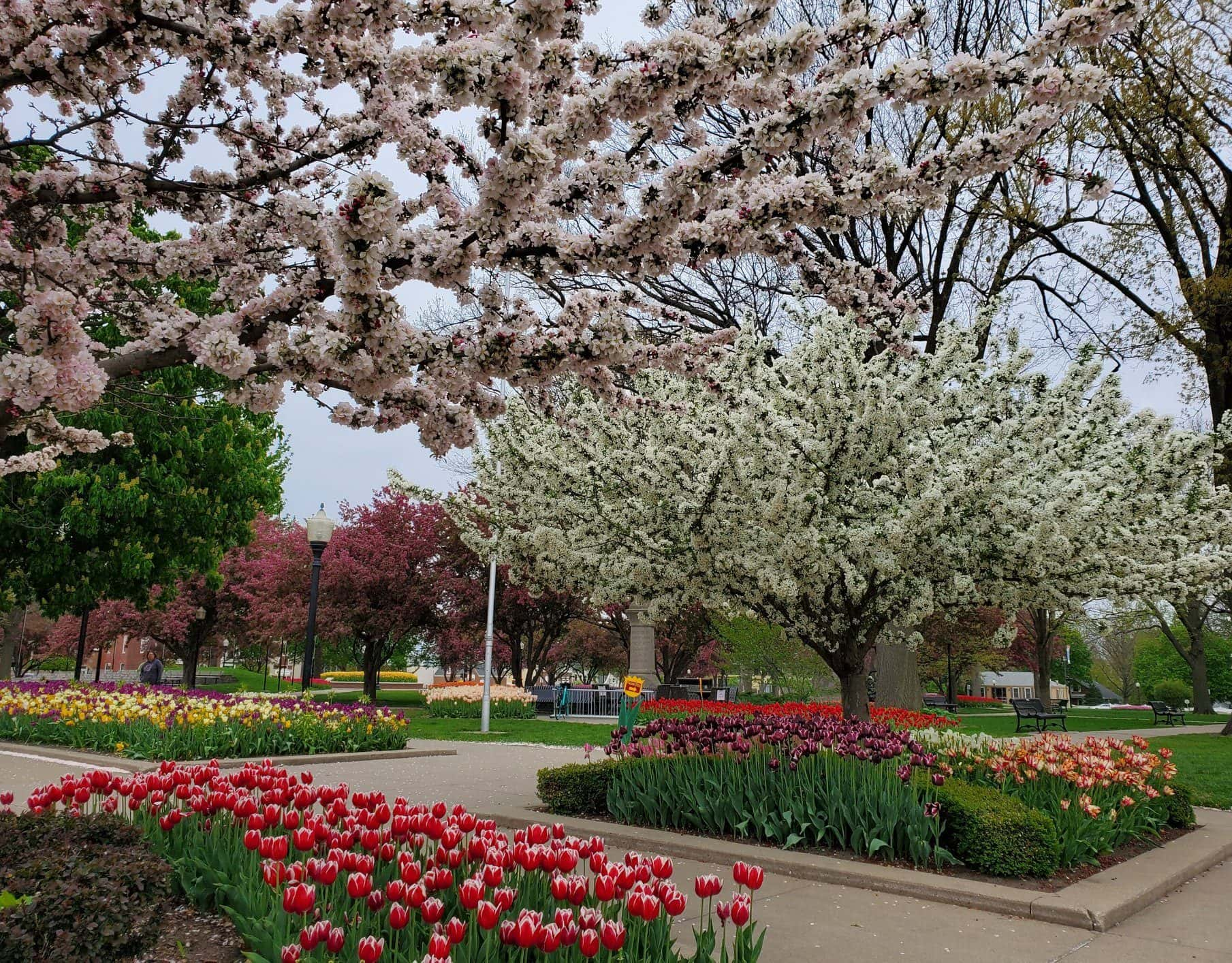 Fall planting of tulip bulbs has started. This fall, the City of Pella Parks Department will be planting 128,850 tulip bulbs for bloom in spring 2021, with 90 different varieties of tulips in over 240 flower beds in City Parks and along the streets.
Bulbs arrive the last week in September or first week of October, and it takes roughly 5-7 working days to inspect and sort the bulbs. Typically, the City will begin to plant tulip bulbs around mid-October and the process takes around 4-5 weeks. The preferred ground temperature for tulip bulb planting is 50 degrees.
From Community Services Director Jeanette Vaughan:
"There are many different methods for planting and spacing bulbs. While we plant bulbs consistently 6" deep we do vary spacing depending on the size of the bulb. In general, we space bulbs roughly 2"-3" apart. For example, smaller bulbs, like bouquet or multi-bloom style tulips, are planted a little closer together. For the best effect of a mass planting we tend to plant anywhere from 9-12 bulbs per square foot depending on the size of the bulb.
We enjoy trying new and different varieties each year. Some new tulips this year include Amber Glow, Double Surprise, Eyelash, Flames Mystery, Paradise City and Purple Crystal. This year we will also have the quilt bed in the large bed just north of the information windmill in Central Park. There will be 56 blocks measuring 3' by 3'. There will be 5 different colored blocks that will be repeated throughout the pattern. Each block will consist of a variety of different tulips in each of these five colors; red, pink, white, purple and yellow. A sampling of all 90 varieties will be included in Central Park's "Tulip Avenue". The Tulip Avenue is comprised of two long beds on either side of the walkway between the Sun Dial and Fountain.
Each year we plant new bulbs in order to guarantee a strong bloom performance. We also like to switch out the varieties in the park beds from year to year to create a different visual experience and photo opportunities. Once the tulips are done blooming, they are removed, and the beds are planted with annual flowers for display during the summer months which is another great time to visit Pella.
We do welcome the help of volunteer groups. If you have a group that is interested in planting please contact the Parks Manager, Chandler Nunnikhoven, for more information.
We are often asked when the best time is to visit Pella in the spring to see the tulips. Temperatures play a big part in when the tulips will start to bloom. Depending on the variety of tulip, they can bloom early, mid-season or late season. We generally plant more midseason and late varieties which provide color from late April through early May. Tulip bloom updates are shared on the Community Services Facebook Page on a regular basis once we start to see color in the spring. We look forward to seeing you in 2021!"