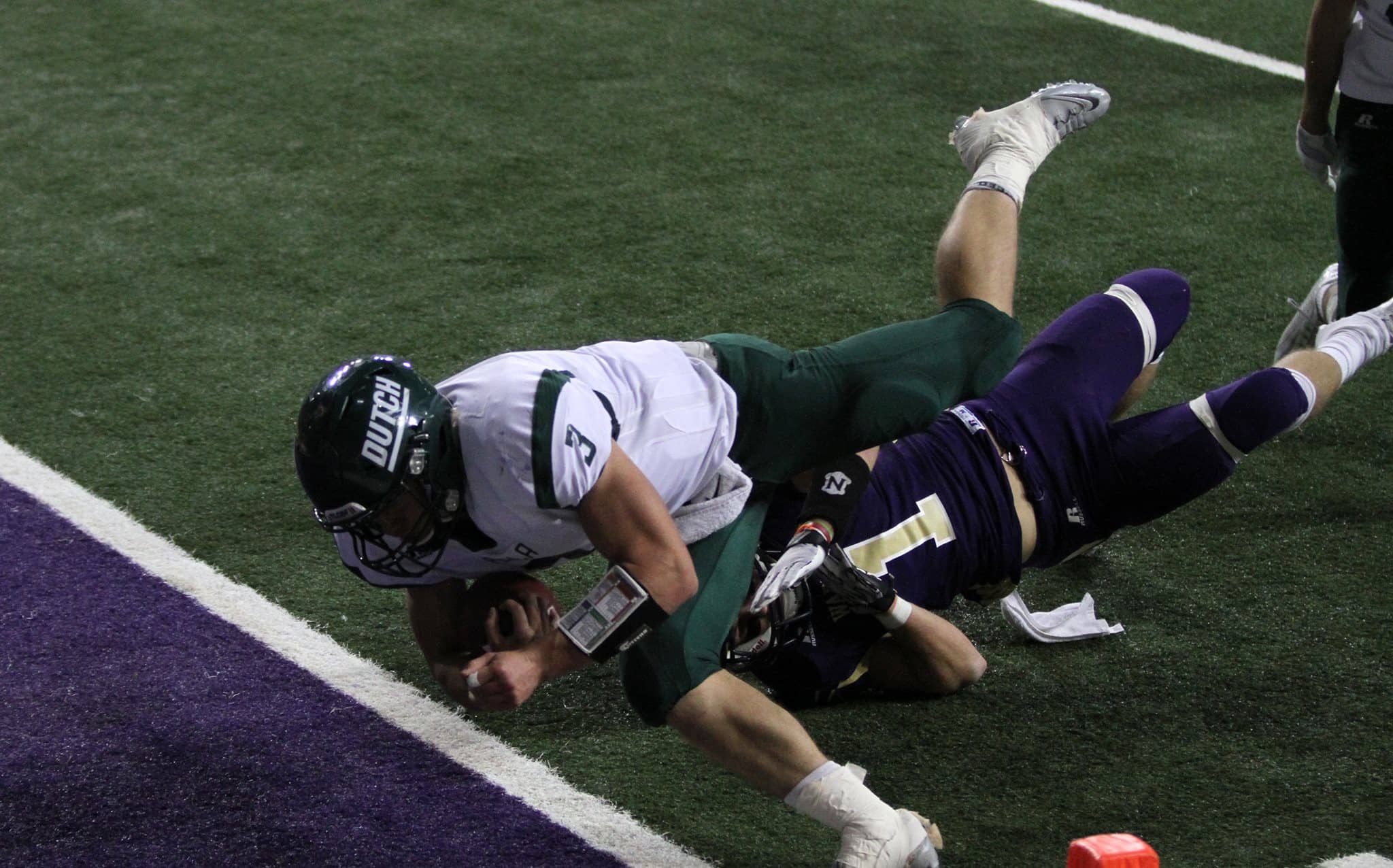 For the past 13 weeks, KNIA/KRLS has highlighted the best Marion County football players from the past ten years as part of the All-Decade Team.
This past Friday, Noah Clayberg was the final member of the elite roster revealed, and was also named the Player of the Decade for his efforts in leading Pella to two straight state championships, as well as his distinction of being named the Gatorade Player of the Year in 2015.
Seth Greiner of PCM rounded out the defense for his strong efforts in helping the Mustangs to an undefeated championship in 2018.
2010-19 All Decade Team Final Roster (click the name on the roster for a full feature):
QB – Noah Clayberg, Pella – Player of the Decade
RB – Cale Anthony, Pleasantville
RB – Wes Cummings, PCM
WR – Levi Jungling, Pella Christian
WR – Donovan Holterhaus, Pella
WR – Chase Wetterling, Melcher-Dallas
OL – Jake Crozier, Twin Cedars
OL – Jace Smith, PCM
OL – Brock Caviness, Knoxville
OL – Chris Bandstra, Pella
OL – Carter Terpstra, Pella
K – Nathan De Bruin, Pella Christian
KR – Noah Treimer, Pella Christian
DL – Garret Jansen, Pella
DL – Chaz Clark, Pleasantville
DL – Ross Dawson, Melcher-Dallas
DL – Seth Greiner, PCM
LB – Josh Pringle, Pella
LB – David Kacmarynski, Pella Christian
LB – Nathan Clayberg, Pella
DB – Keegan Cox, Knoxville
DB – Will Warner, Pella
DB – Avery Van Zee, Pella
DB – Hutch Burns, PCM
P – Trace Embray, Twin Cedars
PR – Hunter Tyree, Pleasantville
Honorable Mention "2nd Team"
Pella – Nick Finney – captain, Ryan Van Wyk, Austin Schulte, Seth Johnson, Lucas Warner, Nathan Henry, Grant Gustafson, Nick DeJong, Aaron Downs
Pella Christian – Alex Huisman, Dan Jungling, Sam Tvedt, Kyle Nikkel, Trey Hugen
Knoxville – Connor Bailey, Tanner Dunkin
Pleasantville – Sawyer Phillips, Zeb Adreon, Patrick Sheehey
PCM – Ethan Kain, Luke Greiner, Reed Worth
Twin Cedars – Brent Parker, Garrett Pettyjohn
Melcher-Dallas – Kenneth Wadle, Jacob Hoch