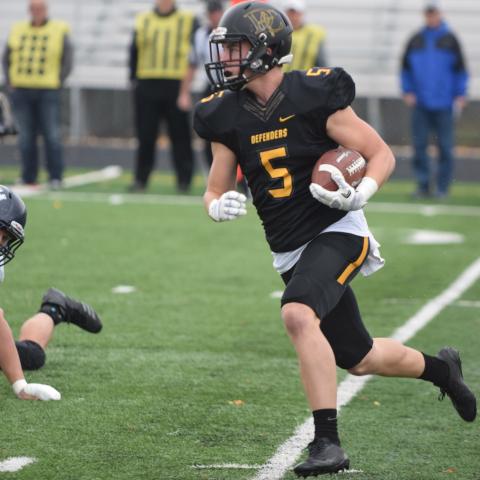 Photo from Dordt University
The collegiate football careers of two of the best Eagles athletes ever have come to a close.
The state's all-time leading high school receiving yardage leader and the man who threw him all of those passes were dominant as the Dordt Defenders defeated Briar Cliff this past Saturday 64-0, as Pella Christian graduates and former All-State stars Levi Jungling and David Kacmarynski finish their time on the gridiron.
Jungling caught three touchdown passes and Kacmarynski added a sack and two steps for a loss in the Dordt regular season finale.
The dynamic duo who combined to scatter their names on the IHSAA record books have helped build a tradition of success at Dordt not previously seen, as when the two have played, the Defenders have 26 wins to 14 losses. Prior to the arrival of Jungling and Kacmarynski, the school had recorded just 17 victories in the first nine years of the program.
Another Pella native played in his final game for Dordt is Senior Quinton Murphy. He was an All-State linebacker and the starting running back for the 2014 Pella state football champions who revived his competitive career at Dordt after transferring from the University of Northern Iowa. Murphy finished with six tackles on Saturday vs. Briar C