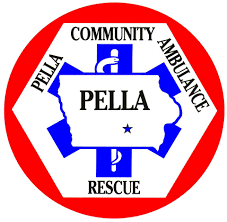 With COVID-19 hospitalizing an average of 1,500 Iowans this week across the state, and a record breaking number of Marion County residents over the past several days, it's not just the medical staff in those facilities feeling the impact.
Director of Pella Community Ambulance Greg Higginbotham says the pandemic's recent surge is taxing ambulance services in Iowa as well, as many are moving patients from rural areas without intensive care units to bigger metropolitan areas, or moving less critically ill–but still infected individuals, from the rapidly filling larger hospitals to those outside of the cities to balance a system that has been reaching capacity. Locally, Higginbotham says they've had a lower number of transfers because of the situation at larger hospitals, but with the rapid increase in local positive cases, EMTs and paramedics are having to take extra precautions for the vast majority of the calls they are responding to.
"It is taking a toll," Higginbotham says. "We've had a huge number of COVID-19 related calls we've had to go on recently, and it's definitely wears on our staff, because we have to put on more PPE [personal protective equipment]–they're almost like spacesuits that are hard to get around in and even hard to breathe in a little bit, and then it's the deconstruction of the ambulance afterwards. When we are done, the ambulance is out of service for almost an hour as we put UV lights and spray chemicals in the back, just to make sure it is safe for the next person to ride in."
Higginbotham says finding additional PPE and cleaning supplies has also been a challenge. He says they are still available for any emergency situation, and those with emergencies should call 911.
"For 911 and it's obvious, call us and we'll be there, and even if you are in doubt and you can't get a hold of anyone, we will still be there no matter what," he says. "We haven't slowed down our response time at all — we're still out the door in about two minutes and on scene in less than four.
That's our goal — to give great 911 service for this community, and we're still abiding by that even in these tough times."
There are 19 Marion County residents hospitalized with COVID-19, and 212 new positive cases since Sunday.